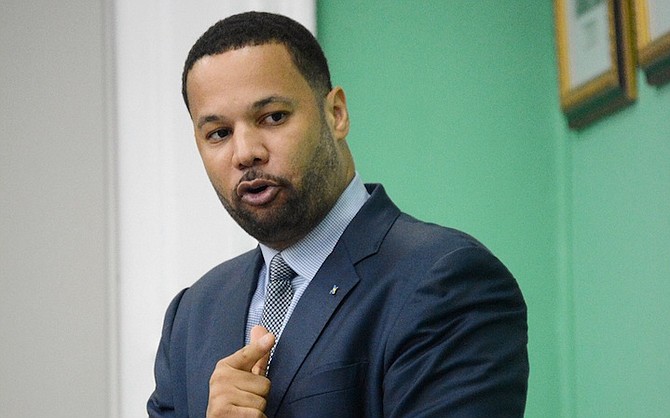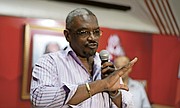 By RICARDO WELLS
Tribune Staff Reporter
rwells@tribunemedia.net
INFIGHTING in the Free National Movement (FNM) took another dramatic turn yesterday as Fort Charlotte MP Dr Andre Rollins lambasted supporters of Leader Dr Hubert Minnis, accusing them of "espousing the tactics of a demagogue interested in dumbing down the debate because the leader has no substance or vision for this country".
He insisted that those FNM members characterising recent actions by him and several others of the party's parliamentarians as a move by "elitists promoting a UBP agenda" were only underscoring the "weakness of the current leadership".
In a statement posted to his Facebook page on Monday, Dr Rollins said this line of attack was only strengthening the position of the government.

Last week, The Tribune reported that the majority of the FNM's parliamentary team had threatened to petition Governor General Dame Marguerite Pindling to remove Dr Minnis as leader of the Official Opposition unless an earlier convention date was set.
This latest effort from the parliamentary team has the support of six of the opposition's 10 MPs, The Tribune understands.
This includes St Anne's MP Hubert Chipman, Montagu MP Richard Lightbourn, North Eleuthera MP Theo Neilly, Central Grand Bahama MP Neko Grant, Long Island MP Loretta Butler-Turner and Dr Rollins.
According to a report in The Nassau Guardian yesterday, South Abaco MP Edison Key alleged that Dr Rollins was being used as a "hatchet man" by a United Bahamian Party (UBP) faction of the FNM to get rid of Dr Minnis.
Hitting out at his critics, Dr Rollins said: "If you have to resort to pandering to the emotions of the poor and working class, by suggesting that those who oppose Dr Minnis are opposed to poor, working class Bahamians, then I say to you that you are espousing the tactics of a demagogue interested in dumbing down the debate because the leader has no substance or vision for this country.
"The party is weakened by the ongoing attempts to vilify some of those who comprise the base of the party simply because it is a convenient strategy for the current leader to remain in the position of power at any expense," he said.
The Fort Charlotte MP suggested that Dr Minnis' "brainless political strategists" have failed to see the wider picture.
He warned that while their tactics may result in the support of a council stacked with "hand-picked supporters", it would not result in victory in the upcoming general election.
"The same ones you castigate using your political minions by way of talk radio, ought to be invited to join you when you go through the gates of Lyford Cay shilling for money to fund your political campaigns. Then they will see just how many times the words 'poor Bahamians' comes up in your conversations with them," he stated.
"I am no UBP and I certainly have not been given any inducements or rewards for any actions I have taken as a member of the FNM. I cannot be bought," he added.
"However, I believe in keeping it real. My loyalty is to this country and the Bahamian people. They deserve to be respected and not played by those interested in being politically duplicitous. Now, do we want to have an honest debate or do we want to sit back while desperate politicians try to play us for fools?"
Dr Rollins also said the FNM has remained a strong party because it has been able to draw the support of "black Bahamians, white Bahamians, 'conchy joe' Bahamians" and people from all social classes.
On Saturday, Dr Rollins stressed that leaders must never be afraid to "allow democracy to reign" adding that if Minnis is fit for his post, he will "weather the storm".