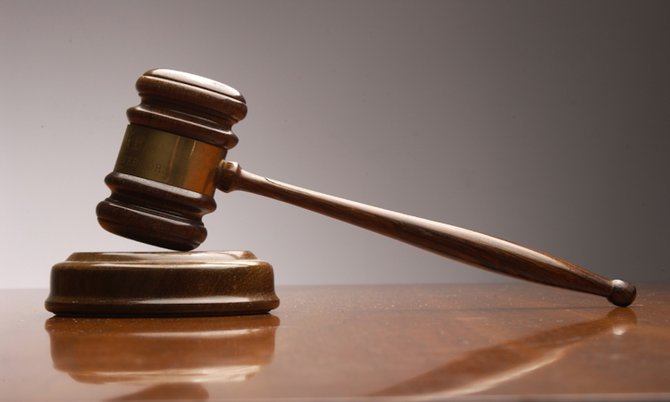 By LAMECH JOHNSON
Tribune Staff Reporter
ljohnson@tribunemedia.net
A MAN was sentenced yesterday to nine years in prison for the gunpoint robbery of a café in which $16 and two cellular phones were stolen.
Nathan Cooper, 21, and his lawyer Stanley Rolle, had asked Justice Vera Watkins to consider imposing probation instead of a custodial sentence concerning the March 25, 2014 robbery of an employee of the Lemonade Stand.
Cooper faced up to life imprisonment for the two counts of armed robbery as stipulated by Section 339 (2) of the Penal Code under which he was charged and convicted on Monday by a Supreme Court a jury.
However, the court found that probation is not an appropriate sentence for a man who committed an armed robbery within two years of a conviction for assault where a weapon was also used.
"I have reviewed the evidence taken at trial and I have noted the mitigation plea and submissions made by counsel," Justice Watkins said.
"I have also noted the fact that Cooper has been previously of a similar offence in that, in the past, he was convicted of an offence involving the use of an offensive instrument. The conviction for assault is date March 20, 2012 and the offences in the present case were committed on March 20, 2014. This means that Cooper committed the offences in the present case a mere two years after his previous conviction," the judge added.
"This is also an indication that Cooper is not a fit and proper person for a probationary sentence since he has not demonstrated that he can be trusted to be free in society without being involved in criminal activities. Society ought to be protected from Cooper and incarceration is the most suitable means of preventing Cooper from committing further offences."
Justice Watkins said the aggravating factors outweighed the mitigating ones in Cooper's case for the court the "depart from the established practice of imposing a term of imprisonment for an offence involving the use of a firearm."
"I am of the view that a custodial sentence is appropriate in order to prevent further commission of offences against unsuspecting and vulnerable members of society," Justice Watkins stressed.
The judge expressed hope that Cooper would be rehabilitated given his age and "be afforded an opportunity to receive academic and vocational training so as to improve his prospects of securing gainful employment upon his release."
During his trial, the nine-member panel heard testimony from Kanya Rolle who testified that Cooper was the café's first customer for the day when the eatery opened at 10am.
He asked Ms Rolle if orange juice was sold at the store. The worker told him no. Cooper then asked for lemonade.
Ms Rolle turned around to prepare the lemonade when Cooper jumped over the counter, pointed a handgun, which he had taken from his pocket, at her and demanded cash.
The employee removed a "baby wipe" container from a cupboard and gave Cooper $16. Cooper left the store and when Ms Rolle rushed to lock the door, Cooper re-entered.
Ms Rolle became afraid and ran away from Cooper who then left the store. The employee later realised that two cellular phones belonging to her were missing.
Cooper's lawyer, in his plea in mitigation, asked the court to exercise leniency in sentencing his client, expressing the view that probation would be both beneficial to someone his age and also serve as a form of punishment.
The lawyer also stressed that notwithstanding his client's expulsion from school, Cooper had held steady employment afterwards and attended church with his mother and grandmother with whom he lived before his arrest.
He also said that his client intended to continue his education upon release from prison.
The prosecution disagreed with probation as an appropriate form of punishment, stressing Cooper's lack of remorse and the prevalence of armed robberies plaguing Bahamian communities.
"Taking into account the relevant provisions of the statute law cited above as well as the mitigating and aggravating factors mentioned above, I therefore sentence Cooper to a term of nine years imprisonment at the Department of Correctional Services at Fox Hill, in New Providence, commencing October 31, 2016," Justice Watkins ruled yesterday.
"Officials at the Department of Correctional Services have confirmed that Cooper has spent a period of approximately two years and seven months on remand between April 7, 2014 and October 31, 2016. The time spent on remand will therefore be deducted from the sentence of nine years," the judge added.
Cooper will effectively serve 77 months (six years, five months) in prison.
Eucal Bonaby and Stephanie Pintard prosecuted the case for the Crown.