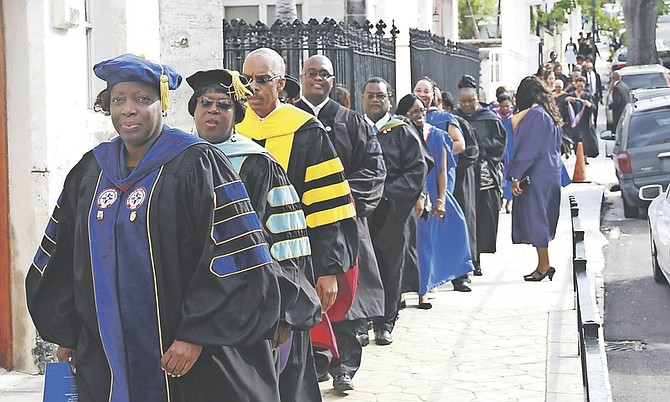 By RASHAD ROLLE
and LAMECH JOHNSON
Tribune Staff Reporters
THE College of the Bahamas will mark its transition to university this week with numerous activities leading up to its charter day on Thursday.
And while many are celebrating the impending change, Mark Humes, a lecturer at COB and former president of the Union of Tertiary Educators of the Bahamas (UTEB), said while he thinks the transition is a "good thing" he feels that the current move is a "political ploy."
"I don't know if there's any country anywhere that wouldn't want to have a prestigious university as the centre of its educational system," Mr Humes, current Free National Movement candidate for Fort Charlotte, said. "So, COB transitioning to a university is a good thing. Whether or not COB is adequately prepared to transition to university is another thing.
"The unfortunate thing for me, in all of this, is that the transition at this time, I feel, is only a political ploy. I think if you look over the past couple of months you would recognise from the reports about the financial state of the college that it's not prepared for the transition. The government has made no indication, if they remain in power, that they will continue to invest in the university at a level that it needs to invest in it in order for the institution to be sustained."
Mr Humes said the quality of education students receive at COB is world-class.
"I think when you look at the quality of the faculty members that teach at the college, you can't say that we don't have what it takes to compete or be sustainable as a university.
"The students that have left and gone abroad can attest to the fact that the quality of the instruction is superior and will prepare them for any institution outside of this country. So there's no doubt about that. I think what hinders us also, as an institution, is the infrastructure that we're lacking and the resources we'd need to function at the next level," Mr Humes said.
The historic week for the college began yesterday with a service of thanksgiving at Christ Church Cathedral. Prime Minister Perry Christie said that a university does more than educate a population. "It aids in research, in defining and creating public policy. A university is a space where imagination is encouraged and dreamers, like me, become free to make their dreams come true. At the university, we will nurture talent and inspire new leaders."
Today, the college will have a "Blue Day" to build anticipation and enthusiasm for the University of the Bahamas (UB). Faculty, staff, students, alumni, donors and friends have been requested to wear UB-branded T-shirts as a display of support.
"In order to encourage and engage national participation and increase excitement, a live radio remote broadcast is scheduled to highlight charter week events, promote UB brand merchandise, and campus life activities," the college said in a statement.
On Wednesday, COB will host a "panel of presidents" at the facility's Performing Arts Centre at 6.30pm. It will feature current and former university presidents discussing the role and relevance of a university within communities.
Invited panel presenters include Chancellor of the University of The West Indies Sir George Alleyne; President of Middle Tennessee State University Dr Sidney McPhee; former President of The College of The Bahamas Janyne Hodder and Chancellor Emeritus and Professor of Physics Emeritus at University of Washington, Dr Warren Buck.
Finally, the formal UB Charter Day ceremony will be held at the Thomas A Robinson national stadium at 10.30am on Thursday. A public event, invited guests will come from around the worldwide academic community.
Prime Minister Perry Christie will deliver the keynote address during the event.