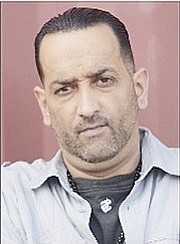 By Inigo 'Naughty' Zenicazelaya
IF you are a 'fantasy football' aficionado such as myself, you know it's time to hit the waiver wire for your playoff run, especially if you are in contention and you're picking near the bottom each week in the waiver order.
Despite it being "slim pickings" on the waiver wire, there are a few hidden gems worth grabbing and stashing now, for big returns on your investment later.
Remember consistent, dedicated monitoring of the latest NFL news and your league's waiver wire will allow you to continuously build your team into a winner, while other fantasy players, (the not very good ones) circle the wagons and stand pat, hoping to win!
• Here's five waiver wire nuggets you can try to grab to improve your team now, and later, in Week 10's waiver wire frenzy.
James Starks, RB,
Green Bay Packers
Absent since Week 5, the team remained cautious with Starks and held him out of the Week 9 loss to the Colts. However, if Starks improves in practice this week, he very well could return to a heavy workload in Week 10 when the Packers travel to face the Titans.
Green Bay lacks a running game right now, with Don Jackson, Ty Montgomery, Aaron Ripkowski, and Aaron Rodgers forming a four-player (and position) hybrid. It's an unsustainable formula, and the team will likely revert back to a more traditional approach if/when Starks gets healthy.
Hopefully for fantasy owners that's Week 10. Regardless, Starks looks like a priority add this week as he's proven capable in the past of being productive with the featured role. We're approaching the waning months of the season and Starks' potential in this offence is worthy of a hefty waiver investment.
Tim Hightower, RB,
New Orleans Saints -
Hightower backed up his strong Week 8 performance with a 23-carry, 87-yard, one-touchdown effort against the 49ers in Week 9 (with 15 receiving yards for good measure).
This marks the second week in a row Hightower has received 20-plus carries, while Mark Ingram hasn't done that since Weeks 10 and 11 in 2014.
Ingram had a big role on Sunday as well (15-158-1 rushing, 2-13-1 receiving), which speaks to the offensive shift happening for the Saints, as well as a matchup against a historically bad 49ers run defence.
In Weeks 1-7, the team ran on 42 per cent of their offensive plays, while that number jumped to 50 per cent in Weeks 8 and 9. New Orleans now tries to control the clock and keep their shaky defence off the field, and it's worked. They've won both games while out-possessing their opponents by over 30 minutes.
All of this means both Hightower and Ingram will have fantasy value moving forward as part of a new (sigh) committee backfield.
Darren Sproles, RB,
Philadelphia Eagles
It's hard to understand what is happening in the Eagles backfield. Despite head coach Doug Pederson insisting that Ryan Mathews is still the "lead guy" last week, the playing time split tells a different story.
Over the last three weeks, Sproles has out-snapped Mathews 140 to 41, though Mathews' two touchdowns have kept him fantasy relevant. The Eagles host the Falcons next week - a game we'd expect them to be trailing in early. That favours a more Sproles-heavy approach once again. Hopefully this week, his increased playing time leads to more fantasy production as well.
Tyrell Williams, WR,
San Diego Chargers -
Williams was already pushing to be the leader in the Chargers pass-catching corps, but with Travis Benjamin now battling a torn PCL it looks as if Williams will have that role on lockdown moving forward.
Over the last four games he leads the team in receptions (17), and receiving yards (237), while his two touchdowns are tied with Antonio Gates, who is the only player he trails in targets (34 to 26). Next up for the Chargers is date with the Dolphins' patchwork secondary, setting up Williams and Co. for another big outing.
Kenny Britt, WR
Los Angeles Rams
Britt has had 67-plus receiving yards or a touchdown in six of eight games so far this year, proving to be surprisingly consistent in an overall inconsistent passing attack.
He'll have WR3/flex appeal this coming weekend against a Jets secondary that continues to struggle against the pass.
If rookie QB Jared Goff takes over under centre, though, we may want to rethink starting Britt until we see the rookie in game.
Hopefully this will help you strike gold, in your fantasy football waivers this week and through out the remainder of the season.
Until next week...
• Naughty presents 'Mischief and Mayhem in da AM' from 6am to 10am, Monday to Friday and 'The Press Box' sports talk show on Sunday from 10am to 1pm, on KISS FM 96.1. Comments and questions to naughty@tribunemedia.net