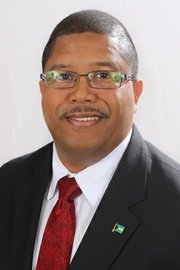 Grand Bahama Power Company's (GBPC) plan to recover its $25 million in Hurricane Matthew restoration costs from consumers was last night blasted as "highly irregular and unfair" by one of the island's MPs.
K P Turnquest, the east Grand Bahama representative, told Tribune Business that the utility monopoly would be "taking advantage of a captive market" if it levied a 'hurricane recovery charge' on its 19,000 customers' bills.
He was speaking after Emera, the Canadian-headquartered utility that is GB Power's 80.4 per cent majority shareholder, confirmed its intention to reclaim Hurricane Matthew restoration costs from Grand Bahama businesses and residents.
Emera's financial filings for the 2016 third quarter confirmed that the rebuilding of GB Power's transmission and distribution network is estimated to cost $25 million.
"The Q3 2016 results for Emera Caribbean do not include any of the approximate $25 million of restoration costs, which are expected to be capitalised and recovered from customers over time," Emera said of GB Power.
"The island of Grand Bahama took a direct hit from Hurricane Matthew in October 2016. Property damage on the island is extensive. GBPC's generation and substation infrastructure generally weathered the storm well.
"However, over 1,500 transmission and distribution poles and related conduits were damaged or destroyed, as were many connections to customer homes," it added.
"Restoration efforts are well underway, with GBPC's team being supplemented by over 200 people and over 100 pieces of equipment from other Emera affiliates, including Tampa Electric, Emera Maine, Nova Scotia Power, and Emera Utility Services."
Sarah McDonald, GB Power's chief executive, had previously pledged to Tribune Business that the utility would avoid any "harmful rate shock" to customers still struggling to recover from Matthew's devastation.
She added that the company would work with its regulator, the Grand Bahama Port Authority (GBPA), to determine the most appropriate method for recovering its "prudent" restoration costs once all work was completed.
"We'll work with the GBPA to find a way to recover the prudent costs of restoration, but we don't want a rate shock that will be harmful to people trying to get back on their feet," Mrs McDonald emphasised.
However, Emera and GB Power's confirmed intentions, and the scale of what they will be seeking to recover from hard-pressed consumers, will again raise questions over who should foot the bill for storm restoration - the latter's shareholders, including the 19.6 per cent Bahamian minority in BISX-listed ICD Utilities, or consumers.
The situation is also likely to revive debate on who should be GB Power's regulator - the Utilities Regulation and Competition Authority (URCA) in Nassau, which is supposed to oversee the energy sector nationwide, or the GBPA.
Mr Turnquest, the FNM's deputy leader, was adamant that he would not support GB Power's plans for charging storm restoration costs, or the previously proposed hurricane self-insurance fund, to consumers.
"I think it's highly irregular and unfair for consumers to bear that cost," Mr Turnquest told Tribune Business, suggesting that GB Power had done something similar under previous ownership when Frances and Jeanne struck in 2004.
"It's part of their infrastructure costs. They're selling us a service. For us to pay another cost for this recovery is highly unfair."
While admitting he was unaware how other utilities in hurricane prone jurisdictions recovered their restoration costs, Mr Turnquest said he was also opposed to consumers financing any GB Power self-insurance fund.
"Why should we be paying for that? It's an operating fee for the business," he added. "If I want to operate a business, I can't pass on my insurance costs to my customer every year. Don't come to me talking about special insurance cover and recovery fees. That's not my problem; that's your problem."
GB Power executives have previously told Tribune Business that it is impossible to obtain insurance coverage for its transmission and distribution network, given the risk of hurricanes.
And they have argued that it is standard practice in the energy utility industry to recover costs, such as hurricane restoration, from additional charges levied on consumer bills.
Yet the Bahamas Electricity Corporation (BEC), and its Bahamas Power & Light (BPL) subsidiary, have never traditionally imposed a hurricane restoration charge - and have given no indication of doing so this time.
However, Mr Turnquest told Tribune Business: "In short, I will not support it. It's highly unfair to expect a set of consumers already taxed in the recovery to pay for the restoration of poles.
"I don't know what to say about this. I think it's unfair, and taking advantage of a captive market and doubling down on the back of people stressed and hurting from higher rates and recovery costs."
Mr Turnquest agreed that GB Power's recovery demands would reignite debate over whether URCA should take over regulatory responsibility for GB Power, an issue that has already ended up before the courts.
"This again points back to the need for a qualified, independent regulator to make sure whatever recovery is needed is fair and explain why an adjustment is necessary," he added.
GB Power previously filed a Judicial Review with the Supreme Court challenging URCA's authority to regulate it.