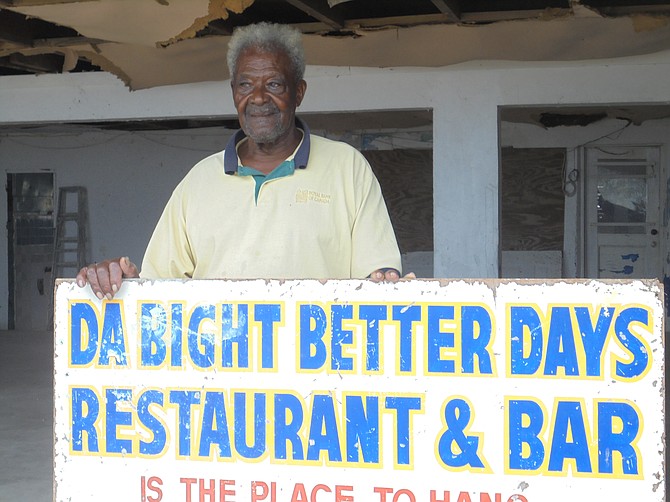 Denise Maycock visits West End to see how communities in the worst hit areas of Grand Bahama are recovering from Hurricane Matthew six weeks on.
When you drive to West End, you see a community left in ruins by Hurricane Matthew. 'The home of hospitality' sign at the settlement's entrance is no longer there.
But despite the massive destruction and loss suffered in the huge storm last month, the people are still warm and friendly, and welcoming to outsiders.
This week, driving along the bay road, we saw Kenneth Wilson, 88. He was sitting on the stairwell of his two-storey restaurant and bar business, which had been severely impacted by storm surge.
'Da Bight Better Days Restaurant and Bar' is on the verge of collapsing. A large portion of the ground floor had been washed away and two planks of wood were erected to brace the second floor.
Mr Wilson has owned and operated the business for 56 years.
"It is gone now," he said of his business. "I thought about it, but there is no need to worry any more. Things happen, and I have to accept it," he said, with a smile.
"The water came in and knocked out that whole section there," he pointed. "I am going to let the government or whoever take it down and leave it for my children to rebuild and operate."
Just a few feet away, the house of Marie and Albert Sweeting was completely destroyed. The roof had been ripped off by high winds and cleaned out by powerful storm surge. They lost everything and are now staying in an apartment at Bootle Bay. Despite their loss, they said that they have not lost their faith.
"I can't complain, no life was lost and I thank God for that," said Mrs Sweeting. "The entire house and everything in it is gone, but I have not lost my faith. That is the most important thing."
The Bight is prone to flooding and the Sweetings' home had flooded before during Hurricane Sandy. "We saw the water coming over the seawall and then it came into us," Mrs Sweeting recalled of the 2012 hurricane. She said they had to take refuge on the bed in their master bedroom.
This time, they decided to leave and ride out the storm with her daughter in Freeport. "We have been through Frances, Jeanne, Wilma, Sandy and Floyd and this one was the worst. It was terrible," said Mr Sweeting.
His wife said she was very grateful for the help they have received after being displaced by the storm. "We are very appreciative to the government, friends and those persons who have been so kind in donating relief items," she said.
Rebuilding has not started in West End. Technical officers of the Ministry of Works and Urban Development and Grand Bahama Port Authority were in the area between November 11 and 15 conducting electrical and mechanical assessments.
Further along, Shebo, a well-known resident and conch stand vendor in West End, has rebuilt his shack and is back in business serving his delicious conch salad. He said the storm also damaged his home.
"The storm came and took my business, but my son-in-law came and built me a new shack and I am back in business again. I was opened four days after the storm," he said.
Shebo said that his house, just across the street, is missing a front door and five windows and has roof damage.
"I have lived here 66 years and this is the worst. I stayed with a friend at his house and when the storm pass there it shook that two storey and I thought we were gone," he said.
On the back road, Loney and Jennifer Wilkinson said they stayed and rode out the storm at their house in West End.
"The entire back yard was flooded and water came in the house about an ankle high," recalled Mr Wilkinson. "It was as if we were in the middle of the ocean," said his wife.
After the storm had passed, Mr Wilkinson said he could not believe the amount of destruction he saw. "When I walked outside, I saw people's homes destroyed, furniture, clothes everything outside the house and debris everywhere," he said.
The Wilkinsons allowed residents to have access to their water pump. "We were glad to give them water and told them they could come as often as they needed, and that is how I met Mr Keith Cooper," he recalled. "When I was kid, my father always had a water pump in his yard and I thought it would be a good idea to put one in when I built my house in 2000," he said.
The water pump has been a lifesaver to many residents in West End after the storm.

Mr Wilkinson said a lot of people are hurting. "A lot of homes are damaged and people had not fully recovered from Frances and Jeanne in 2004," he said.

However, he said residents are very thankful for the acts of kindness from persons who came to help.
"A chef, Sean, and his wife, Jillian, brought food in twice a week, as well as lady who brought chicken souse. They were very kind and considerate to bring food and they did it three times after the hurricane, and there were other people who came and donated ice and water," he said.
dmaycock@
tribunemedia.net