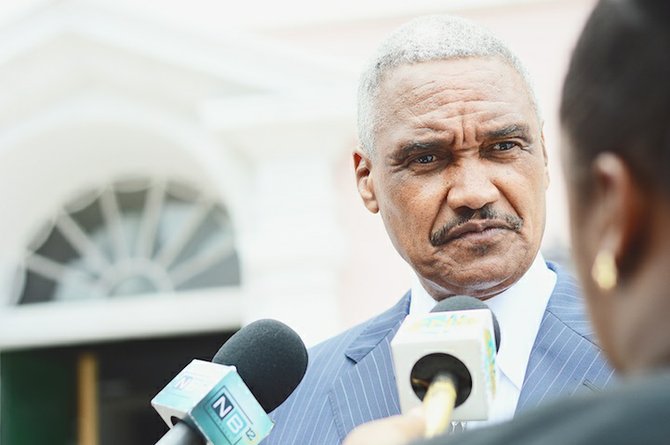 By SANCHESKA DORSETT
Tribune Staff Reporter
sdorsett@tribunemedia.net
TALL PINES MP Leslie Miller said yesterday he believes most of his parliamentary colleagues will be "gone" after next year's general election.
Mr Miller also said this will be an "extremely tough" election for the Progressive Liberal Party (PLP) and predicted there will be "massive changes" in the House of Assembly after the 2017 vote.
In an interview with The Tribune, Mr Miller said people are angry and frustrated and "will demand change" when they head to the polls. He said the expected "mass exodus" of current parliamentarians will not be about what the Free National Movement has to offer but a reflection of "how bad" people believe the Progressive Liberal Party has been in office.
Mr Miller admitted that the government could have done more to assist the public during tough economic times but said the FNM is no better and has not offered any alternative solutions.
"This election is the most crucial election since 1967 and will take us into a new future," Mr Miller, who served as minister of trade and industry in the first Christie administration, said.

"This will not be easy and we cannot take anything for granted. The people are upset, the people want change, they don't care about Dr Minnis and the FNM, people vote governments out because their hate for that group exceeds their dislike for the other guy.
"So people don't think the FNM is good, they just think the PLP is bad and if the people vote for their member of Parliament based on the leader of this party, then God help us all," Mr Miller said.
"People are frustrated. They are still catching hell since the hurricane, losing their homes, Baha Mar still closed and people cannot pay their rent. Someone is going to have to bite the bullet. There are many ways we could have assisted in Parliament but someone has to step up to the plate and say enough is enough. These people want help and it is our obligation to help them. These people aren't asking for much. "They only want to live halfway decent lives, not ducking the rent man or BEC. They want to be able to feed their kids in the morning and give them six dollars to buy lunch but the people are catching hell. Someone has to step up to the plate or we will be history."
Mr Miler said Bahamians are no longer interested in politicians who "pretend to care" and do nothing. He said many of his colleagues will be in for a rude awakening next year.
"People have to be able to see what you are doing, that fake stuff is not cutting it any more," Mr Miller said.
"These MPs need to step up to the plate. The PLP and the FNM, they are all the same. No one wants to take a stand, so they will have to get out the House (of Assembly). There will be massive changes in that place. People have come to me and said 'Sorry Mr Miller, you are a part of that group so you will have to go to.' It may be my fate again but it won't just be me. Plenty of them won't be there, there will be a totally different House next election. You mark my words."
Mr Miller said if he is sent home, he would thank the people for the time he has served and then "get on with his life."