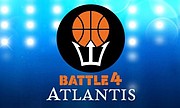 By BRENT STUBBS
Senior Sports Reporter
bstubbs@tribunemedia.net
NOT long after organisers closed the book on the sixth edition of the prestigious Battle 4 Atlantis, the teams scheduled to compete in 2017 over the annual Thanksgiving weekend was confirmed.
On Sunday, the organisers revealed that the Tennessee Volunteers would be the latest addition to complete the field of eight teams that will play in the tournament scheduled for November 22-24 at the Atlantis resort on Paradise Island, Bahamas.
Joining the Vols next are the Arizona Wildcats, featuring Bahamian DeAndre Ayton, who is expected to be making his return home to compete in his freshman year after he made the transition from high school at Hillcrest Prep out of Phoenix, Arizona where he played in a series of games here a couple weeks ago, to the collegiate ranks.
Also coming in are the North Carolina State Wolfpack, Northern Iowa, Purdue Boilermakers, Southern Methodist University (SMU) Mustangs, Villanova Wildcats and Western Kentucky Hillhoppers.
The Vols competed in the Battle 4 Atlantis is 2013 and finished 5th with a 2-1 record. Tennessee lost its opening game to UTEP but followed their loss with wins over Xavier and Wake Forest.
Villanova, the reigning national champions, won this tournament in its last appearance in 2013, defeating Iowa in the final.
The Battle 4 Atlantis has emerged as one of the best tournaments to help kick off the hoops season. Despite being two weeks into the season, it always draws intrigue with big names and big games played during the Thanksgiving holiday week. Next year's event will take place Nov. 22-24.
This season featured three top 25 teams: No. 10 Louisville Cardinals, No. 20 Baylor Bears and No. 24 Michigan State Spartans.
Baylor rallied back from a 22-point deficit to stun 10th-ranked Louisville, 66-63, to clinch the championship title on Friday afternoon as King McClure scored all 15 of his points in the second half. Johnathan Motley also scored 15 points with six rebounds and was named the most valuable player (MVP).
"We've been a second-half team all tournament," Bears coach Scott Drew said, "but that one I guess took it to extremes."
It was the worse of the extremes for Louisville.
"We could not have played better basketball than we did in the first half - that was a spectacular display," said U of L coach Rick Pitino after they shot just 33 percent (9 of 27) in the second half.
"In the second half, seven straight times in a row, we were in the wrong defense running down and gave up easy baskets, and that's a sign of fatigue. ... This loss is all me, not the players. It's all me."
Donovan Mitchell scored a game high 17 points in the loss for Louisville.
Meanwhile, Michigan State, featuring the return home of junior point guard Lourawls 'Tum Tum' Nairn, pulled of a 77-72 win over Wichita State for third place as Miles Bridges scored 21 points. Nairn, playing live in front of the Bahamian crowd for the first time, didn't score, but dished out a career high 12 assists with five rebounds.
"There's no question that this team has been through a lot," Spartans' head coach Tom Izzo said. "But that's what I challenged them with. I don't challenge them with effort, heart, I don't challenge them very often with character issues. But I did challenge their character a little bit."
Darral Willis scored 16 points to lead Wichita State, which shot 36 percent.
The Battle 4 Atlantis got started in 2011 when Harvard knocked of the University of Central Florida 59-49 as Keith Wright was named the MVP. Behind the MVP performance from Quinn Cook, Duke won the 2012 title 76-71 over Louisville.
James Bell was the MVP as Villanova won the only championship overtime game played 88-83 over Iowa in 2013. Then in 2014, Frank Kaminsky was the MVP as Wisconsin beat Oklahoma 69-56.
And last year, Syracuse added their name to the list of champions with their 74-67 triumph over Texas A&M as Michael Gbinije was named the MVP.