By SANCHESKA DORSETT
Tribune Staff Reporter
sdorsett@tribunemedia.net
DESPITE spending nearly 24 hours in makeshift shelters in the Atlantis Paradise Island resort's Imperial Ballroom, several visitors and guests told The Tribune "it was an experience they will never forget" and they were "definitely" coming back to the Bahamas.
On Wednesday, thousands of guests at Atlantis were evacuated from their hotel rooms in preparation for the impact of Hurricane Matthew.
The 2,100 visitors and residents, who were evacuated from the Coral Towers, Beach Towers, Harborside, Ocean Club and The Cove, spent the next few hours in the Imperial Ballroom, which had been sectioned off into dozens of sleeping quarters. Executives at the hotel said the move was just a precaution to ensure that people were safe during the category 4 storm.
Guests remained in the ballroom until Thursday evening, when the hotel was assessed for damage. Guests in the Coral Towers, Royal Towers, the Cove and Ocean Club were cleared to return to their rooms between 4 and 6pm. However, because of generator failure in the Beach Towers and minor damage to the Harborside Resort, those guests were relocated to the Reef on Thursday night.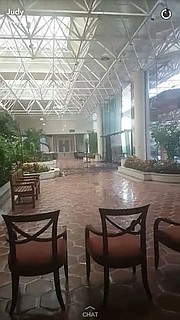 One of them, Alice White, from Dallas, Texas, commended the Atlantis staff for their professionalism and said she was "very impressed" watching Prime Minister Perry Christie address the nation on television.
"My husband and I came in last Friday and we were supposed to leave this Friday but that was cancelled of course and now our Saturday flight has been cancelled so we are trying to figure out what we do," she said.
"It was still a wonderful time despite it all. It was like a hurricane party. I tell you the people here are fabulous. They have been just fabulous. They were so organised and everything flowed; it's like they do it every week. I heard your Prime Minister talking and he sounded like a good guy. He sounded like a good dad, who cares a lot of his people, who would be his children. I was really impressed.
"I am too old to sleep on the floor but they gave me two little pads and I slept on top of the pillows but it was a lot of men snoring and the babies crying but it was still okay. We are booking our next vacation here as we speak, we will be back."
Another guest, Oliver Taylor, from Australia, said he and his wife came a day before the storm and are scheduled to leave on Saturday. He also praised the staff at the resort for making them comfortable and said regardless of the inconvenience, he and his wife will be back to swim with the pigs, like they had originally planned.
"We only got like one day to enjoy the island but we are coming back, it was lots of excitement," he said. "I am quite impressed with how the people who work here are from the island and not only are they here working to help other people they are still chirpy and chipper and upbeat and happy on top of being worried about their families. It was excellent. We are going to come back.
"We are not going to let this deter us. It's Mother Nature, it is not the Bahamas' fault, but I will let everyone know how wonderfully we were treated. We were supposed to go on a boat on Friday to see see the pigs in Staniel Cay so we are going to have to come back to swim with the pigs."
Howard Karawan, President and Managing Director of the Atlantis Resort, thanked the guests on Thursday for their patience and cooperation.
"I am sure when you booked your Bahamas vacation, you did not think this is what it would be like. I want to start by saying thank you all, this was a very difficult time, I am sure you understand that I can not thank each of you enough for your patience, co-operation, understanding. It was difficult and we could not have often though without your help and co-operation."
Mr Karawan also said that no one will be charged for Wednesday and Thursday and all meals on those days will be free of charge. He thanked the 700 staff that stayed behind to assist with the evacuation and ensuring all the guests were safe and comfortable.