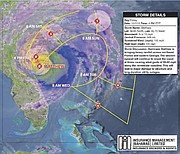 By SANCHESKA DORSETT
Tribune Staff Reporter
sdorsett@tribunemedia.net
THERE is a possibility that Hurricane Matthew will "make a loop" and return to the Bahamas next week, Deputy Director of the Department of Meteorology Basil Dean warned on Friday.
Mr Dean told The Tribune that several computer models have predicted that Matthew can return to the northwest Bahamas as early as next Wednesday. However, he said it will not be nearly as strong as it was "the first time around".
"It is still to early to say whether it will be a strong tropical storm or a hurricane or whether it will dissipate," Mr Dean said.
"We will know more next week but some models have it not coming this way at all."
AccuWeather Senior Meteorologist Steve Wistar told The Tribune that the possibility of Matthew hitting the Bahamas again is "slim but possible".
"First thing to be clear: there is no expectiation that it will be anywhere as strong and we expect it to weaken. But, yes, on it projected path it does have it coming back by next Wednesday as a depression," he said.
"Obviously, that is far ahead and no one knows what the strength will be or exactly where it will go but there is a chance that it will loop. Some of the computer models do not show the loop, they take it out to sea. At this point, we are not worried about it, it is something that we have to keep watching. It will be a weakened version if it does come back and it will be rare."
After battering the Bahamas for three days, Matthew is now hitting the east coast of the United States, leaving a million people in Florida without power.