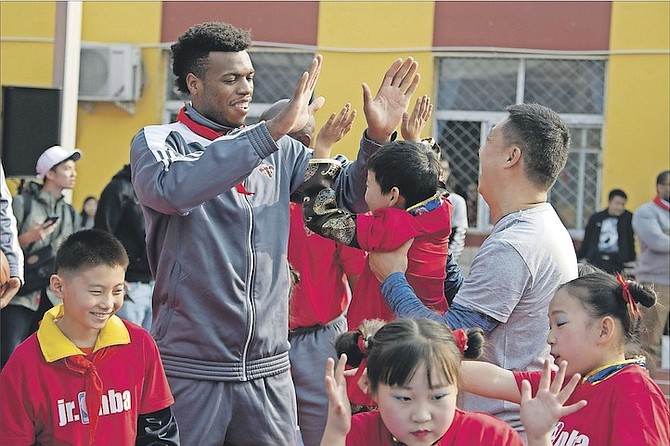 By RENALDO DORSETT
Sports Reporter
rdorsett@tribunemedia.net
When the NBA announced that it was moving its 2017 All-Star Game to New Orleans, it seemed like the perfect opportunity for Buddy Hield to leave his shooting mark on the weekend.
While the Pelicans were in China taking on the Houston Rockets, Hield said he would welcome the challenge of competing in the Foot Locker Three-Point Contest on All Star Weekend. "I want to be in the three-point shooting contest in New Orleans and if it's possible I'd like to do it," he said. "It's a challenge to compete with Steph [Curry], Klay [Thompson] and all those guys. You're competing with the best three-point shooters in the world."
The Golden State Warriors back court of Curry and Thompson have been the last two winners of the contest, winning in 2015 and 2016 respectively.
Hield, the former Oklahoma Sooners guard drafted No.6 overall by the New Pelicans, was considered the top shooter in a recent NBA survey polling the league's incoming rookie class.
Hield got nearly two thirds of the vote, 65.7 per cent, in response to the question. It was the most votes a player ever received for the best shooter question since Curry won 79 per cent of the vote in 2009.
Known for his outside shooting, Hield's senior season in Norman saw him average 25 points, 5.7 rebounds and two assists per game while shooting 50.1 per cent overall and 45.7 per cent from three-point range.
In the preseason, Hield has averaged 17 points, 2.7 assists and 4.3 rebounds while shooting 40 per cent from three, 53 per cent from the field. He finished scoreless in the finale in China, 0-4 from the field in 18 minutes. His numbers have improved since his Summer League performance in Las Vegas where he averaged 16.8 points, 5.4 assists and 3.8 rebounds through five games but struggled shooting at just 34 per cent from the field and 24 per cent from three-point range.
In July, the NBA announced the decision to relocate its 2017 All Star Game from Charlotte to New Orleans due to the city's controversial "bathroom law," also known as HB2. 
New Orleans is slated to host the weekend during its midseason break February 17-19, 2017.