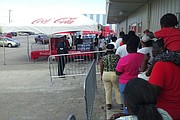 By DENISE MAYCOCK
Tribune Freeport Reporter
dmaycock@tribunemedia.net
COCA-COLA distributed 1,500 cases of water and food care packages to residents on Grand Bahama in support of hurricane relief efforts on Friday morning.
Many residents gathered at Coca-Cola on Yellow Pine Street, Freeport, from 9am because of the great demand for water and ice on the island.
Karla Wells Lisgaris, Marketing Brand Manager with the Carribean Bottling Company (CBC), the local distributors of Coca-Cola, said that Coca-Cola is committed to giving back to the community and responding in times of disaster when there is a need.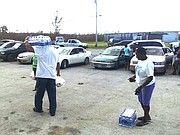 "We wanted to help the community that we operate in and we are providing 1,500 cases of water, one per household, along with a food package," she said.
Mrs Lisgaris said the food was donated to Coca-Cola by Lightbourne's Trading, Island Wholesale Variety and Purity Bakery. "What we have been given we are trying to make it stretch to match to 1,500 cases so that everyone can get one case of water and one food care package," she explained.
Helping people in need during times of crisis is something that Coca-Cola and CBC supports, Mrs Lisgaris said. "Coca Cola globally believes in giving back to the communities in which they operate and so does Caribbean Bottling. So we get support from the international side and locally and we feel it is very important that our consumers know we appreciate them, and when they have a need we have to respond to it.
"Freeport obviously got damaged pretty badly, and so did Andros. We sent product to Andros and donated product in Nassau to residents of South Beach, Marshall Road, Coral Harbour and all those communities that got a lot of water damage. For us, the Bahamas is our community and when we can respond we have to respond," Mrs Lisgaris said.

Residents said they were very grateful to Coca-Cola for responding to their needs. "I think it is a very nice thing that they are doing by giving back to the community," said one woman. "I had a little damage at my home, but I will survive and but my workplace did not fare well. But this too shall pass."
A man who was also queueing said: "I think they are doing a splendid job and at least people can get water and something to eat. This is a great gesture on their part."
The Red Cross was also distributing ice to residents.