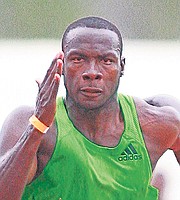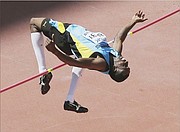 By RENALDO DORSETT
Sports Reporter
rdorsett@tribunemedia.net
A TRIO of Bahamians were inducted into the Athletic Hall of Fame of their alma mater for outstanding collegiate careers on the track and in the field.
Derrick Atkins, Trevor Barry and Aaron Cleare were enshrined as members of the Dickinson State University Athletic Department's 2016 Blue Hawk Athletic Hall of Fame Class.
Barry, the only member of the trio still active in competition, recently finished 11th overall in the high jump at the Rio 2016 Olympics.
A 2006 graduate, Barry's list of accolades with the Blue Hawks included setting the school's high jump and long jump records as a senior. He is a 14-time conference champion and an eight time national champion in both aforementioned jumps. He was also named the most outstanding indoor athlete in 2006 and was a member of the three-time national champion track team.
Barry, 33, is entering his fourth season as an assistant track and field coach at North Dakota State University where he directs students in the high jump, long jump and triple jump.
At the national team level, he has been a member of Carifta, CAC, NACAC, World Indoors, World Outdoors, Pan American Games, Commonwealth Games, Olympics, CAC Games, CAC Championships and NACAC teams.
His list of major international medals won includes the IAAF World Championships bronze in 2011, CAC Games silver in 2006, Commonwealth Games silver in 2010, CAC Championships gold in 2011 gold and silver in 2008.
Locally, a former student of Aquinas College, he is son of Queenie and Charles Barry and was the youngest of five children.
Atkins, 32, is the Bahamian 100m national record holder, and the only Bahamian to run legally under 10 seconds.
The highlight of his career came in in 2007 in Osaka, Japan, where he clocked an astonishing 9.91 seconds for the Bahamas' national record and the silver medal at the IAAF World Championships behind American Tyson Gay and ahead of race favourite, Asafa Powell of Jamaica.
At Dickinson State, he excelled in the both indoor and outdoor for all for years.
He has indoor and outdoor conference sprint records that are still standing, and he led his team to four Dakota Athletic Conference championships. 
Atkins is a seven-time national champion, and he won national titles in the 100 metres in 2003, 2004 and 2005.
In addition, he is an eight-time All-American in the sprints and relays. Atkins led Dickinson State to two consecutive national championships in 2004 and 2005 and to a runner-up finish in 2003
Atkins officially announced his retirement last June and currently serves as an assistant coach working with the sprints and relays for the Kennesaw State Owls in Kennesaw, Georgia.
He was recently inducted in the National Association of Intercollegiate Athletics (NAIA) Hall of fame for his college career, which includes three team national track and field championships, seven-time individual national champion, 15 National NAIA All-American honours, nine time DAC-10 All Conference honours and Dickinson State University male athlete of the year.
Cleare, the former quartermiler, was also an NAIA Hall of Fame inductee.
As a freshman in 2002 and as a junior in 2004, he was an outdoor track and field national champion in the 400 metres and an All-American in the 4x100m metres and 4x400m relays.
In 2005, he was an indoor track and field All-American in the 4x400m relay, and an outdoor track and field national champion in 400 metres and All-American in 4x100m and 4x400m.
As a senior in 2006, he retained his outdoor 400m title his 4x400m relay set an NAIA national record.
He represented the Bahamas at the 2004 Athens Olympic Games as an alternate for Bahamas in the Olympic Games in 2008.
Cleare is currently a behavioural interventionist at Sheridan Jr. High in Sheridan, Wyoming, and he has worked with special needs students for the past two years.