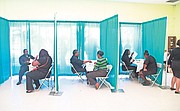 By RICARD WELLS
Tribune Staff Reporter
rwells@tribunemedia
ADVANCING its recent move to acquire a 65 per cent majority equity stake in a rival web shop, Island Luck on Friday hosted a job fair, with a view to fully staff the new operation within the coming weeks.
The six-hour fair saw upwards of 200 job hopefuls gather at the Sir Kendal G L Issacs gymnasium, all looking to fill various posts ranging from cashiers and security personnel, to operations and human resource managers.
"We are looking to basically set up and staff a new company. The view here is that this is a new endeavour, and we need every position filled, from the very basic to the management level," stated Michelle Fox, Island Luck's Marketing Director.
"What island Luck has done is that we have collaborated with Bahama Dreams and we are assisting them with an operational restructure," she said.
"With this move comes opportunities for hundreds of Bahamians, they need a qualified staff and, because we are partners now, we want to ensure that they have the best possible employees in place."
A walkabout during Friday's fair highlighted the immediate need for jobs in the country.
Of the hundreds of job seekers on site, the limited few the Tribune were allowed to speak with all put forward a similar position - whatever it takes to get hired.
A former construction worker, speaking under the alias "Fire", specified that the opportunity to interview for the Luck Company was an opportunity he could not pass up.
"I was schedule to be at work today, but if this works out, I could call myself an employee of Island Luck. One of the best companies in this country. This is as stable as stable work gets and the man in charge, Mr Sebas (Bastian), he has made it clear that he want to build up one of the best company's in the world."
Another applicant of Friday, a single mother of two and current cashier at a local footsore speaking on the condition of anonymity to protect current employment, said her quest at the fair was to secure a post in which she could earn a better wage.
Admitting that she didn't know the specifics of the fair – who was in charge, what all was actually needed and what positions were open - once confirmed a time, she said she showed up with "everything you would ever need for a job interview."
"I expected a crowd, so I knew I had to get out here early and in line to get my stuff in," she said. "It's about my kids, they deserve a best and in order for me to give that, it all starts with a better job, paying me more money. And this could be it."
Back in September, Tribune Business revealed exclusively, a deal in which an Island Luck affiliate acquired the 65 per cent stake in Bahama Dreams, a rival web shop stuck in limbo after the government's reformation exercise within the gaming industry.
Tribune Business also previously reported that Bahama Dreams had been forced to seek a buyer after its deal with the proprietor of Super Value, Rupert Roberts, to place web shop kiosks in the supermarket chain's stores was blocked by the Minister of Tourism.
While there still hasn't been any clarification on how this new deal would work, indications are that the Island Luck affiliate group would act as a support base for the company, allowing it to be jump-started and operate as a competitor to the Island Luck brand.