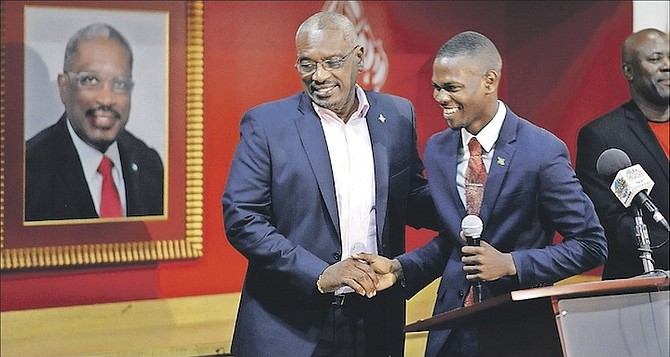 By LAMECH JOHNSON
Tribune Staff Reporter
ljohnson@tribunemedia.net
THE Free National Movement's ratification of a 21-year-old to contest the Bain and Grants Town constituency in the upcoming general election has received the support of the political party's youth arm.
Travis Robinson, a student at the College of The Bahamas, was one of six ratified FNM candidates announced during a Central Council meeting last Thursday at the party's Mackey Street headquarters.
He could become the youngest parliamentarian in this country's history if he is successful in his bid to win a constituency that is considered a stronghold of the governing Progressive Liberal Party.
On Saturday, the Torchbearers Youth Association released a statement on Facebook expressing its approval of Mr Robinson's ratification and what the nomination represents for the country.
"The Torchbearers Youth Association of the Free National Movement would like to take this opportunity to officially congratulate Travis Robinson on his recent ratification as the candidate for the Bain and Grants Town constituency," the statement read.
"We would also like to thank Dr Hubert Minnis and the FNM for once again showing their unwavering support for young people by ratifying the youngest candidate in the history of the Bahamas.
"At age 21, Travis is more than just a candidate for the Free National Movement, but a symbol of hope for our generation and will continue to be that symbol for many generations to come. He is undoubtedly a living testament to the fact that the FNM believes in giving young people real opportunities to change this country."
"He stands as living proof that Dr Minnis meant what he said when he promised to change the political landscape of The Bahamas. In his speech delivered at the FNM headquarters, Travis stated that we live in a time when politicians believe they must 'speak for young people' but the FNM has shown in their actions that they are willing to give young people the opportunity to speak for themselves and provide their own youthful solutions to the many challenges facing our generation today."
Earlier this year, Mr Robinson announced that he planned to run as an independent candidate in the area.
At Thursday's meeting, he delivered a passionate and well-received speech to scores of supporters at the FNM's headquarters, declaring his nomination proof of his party's commitment to youth.
"I thank the Free National Movement for putting their trust in me and by extension, putting their trust in my generation of young people to be able to lead on a national level," Mr Robinson said.
In April, the FNM announced construction engineer Leonard Sands as its candidate for the Bain and Grants Town constituency.
By mid-July, however, Mr Sands suspended his campaign due to continued "infighting" within the party as well as for "personal considerations".
He officially ended his candidacy on August 30.