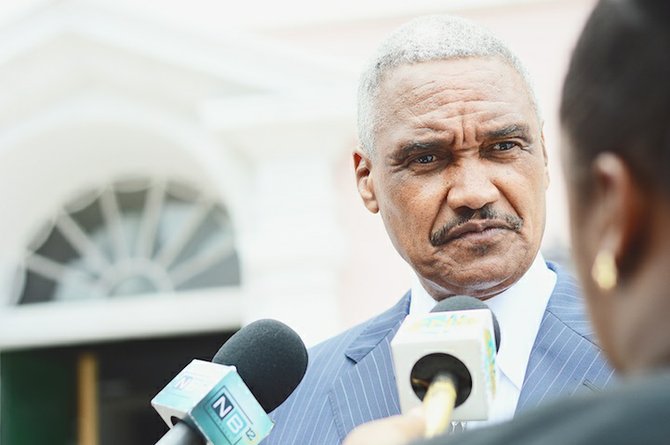 By SANCHESKA BROWN
Tribune Staff Reporter
sbrown@tribunemedia.net
TALL Pines MP Leslie Miller yesterday blamed the government for the failures at Bahamas Power and Light and questioned why management at the corporation have not offered a solution to the public for the frequent power outages.
In an interview with The Tribune, Mr Miller said it is obvious that the government "does not believe in Bahamians" because if the Christie administration did, PowerSecure would have never got the approval to manage the former Bahamas Electricity Corporation (BEC).
Mr Miller said "with all due respect" he believes that PowerSecure was chosen over Bahamians because the investors are "white and foreign."
The Progressive Liberal Party MP said PowerSecure does not care about the Bahamian people and are only concerned with "collecting money and turning people off".
"We (the former BEC board) presented our plan to the government and our plan meant that by June 2016 we would have new engines and would have brought the cost of electricity down for all customers, regardless of the price of oil," Mr Miller, BEC's former executive chairman, said.
"They say they believe in Bahamians, are you serious? They think God only puts brains in the heads of foreigners? They don't believe Bahamians could do this? We had a plan, a solid plan. I resent this, this is a slap in the face and there is nothing we can do but bear with it and sweat. They are good at nothing but getting people to pay. It is amazing that nothing has happened since they took over, we did not need foreigners, we could have done this ourselves. Everyday is a damn blackout.
"With the greatest respect we showed the prime minister the plan, it is just a pity they didn't have faith in us to allow us to do something meaningful for the people."
Mr Miller also questioned why Bahamas Electrical Workers Union (BEWU) President Paul Maynard has been speaking on behalf of BPL and why the management has "been so quiet."
"How the hell is the union president speaking for the company? Where and how does that happen? I don't understand how Maynard became the chief spokesman and it is insulting that the government allows this man, whose only job is to speak for the union, to speak on behalf of an important entity," Mr Miller said.
"The management does not want to talk so they are using him. That's why I had to talk all the time - Mr Maynard speaking is insulting. He should be having a field day, now that his boys are making overtime trying to fix all these outages."
On Monday, nearly one month after the first set of rental generators secured for BPL arrived in the country, Mr Maynard said the site for the engines had not been prepared and the generators will "probably not be installed for another couple weeks."
Then on Wednesday, BPL's Corporate Communications Manager Arnette Ingraham said the company is "hoping" to have the generators installed by the end of "next week."
Mrs Ingraham also said BPL has been "temporarily patching" its troubled equipment but until its rental generators are installed there is "no way to tell" when frequent power outages will end.
And one week after BPL began daily outage rotations throughout New Providence, she said the corporation is finally in a "safe zone."
However, there were reports of power outages in New Providence on Wednesday night.
This comes after a summer plagued with frequent blackouts as BPL struggled to keep power supplied.
PowerSecure took over management of BEC earlier this year, which was later renamed BPL.