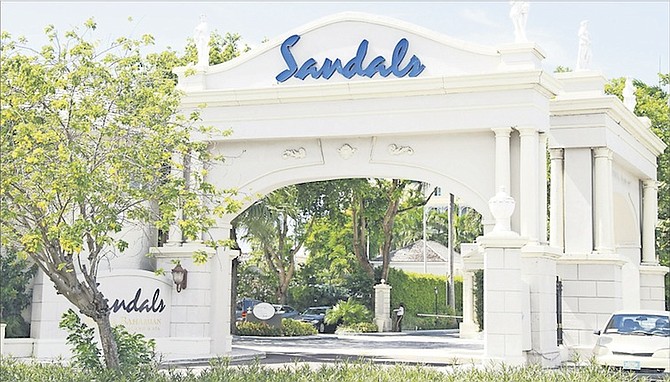 By RASHAD ROLLE
Tribune Staff Reporter
rrolle@tribunemedia.net
PETER Goudie, co-chairman of the National Tripartite Council, has defended the way Sandals Royal Bahamian Resort terminated more than 600 employees last month, saying the resort followed the law and acted correctly.
Mr Goudie is a respected voice in the business community because of his post on the National Tripartite Council (NTC) and his top-level position in the Chamber of Commerce.
His statement gives insight into how the business community may react to the government's efforts to make the kind of actions Sandals engaged in last month illegal.
While Sandals has insisted that it made the employees redundant because it had to close the property to conduct necessary renovations, Mr Goudie seemed to acknowledge yesterday that other motives could have been involved in the resort's decision.
"Sandals did not break the law," he said. "They did nothing illegal. They did what they needed to do because they were having some problems with some employees and they felt the need to change some I guess.
"They have a business to run," he continued before insisting that contrary to reports, the employees were terminated, not made redundant.
"The important thing is, everyone keeps using redundant," he said. "Sandals did not make anyone redundant. Everybody had their employment terminated and they were paid out. The distinction is important because they will hire 592 people back."
Minister of Labour Shane Gibson has frequently said Sandals made the employees redundant.
Sandals' behaviour has been called an attempt at "union busting" since the hotel has had a long-running feud with the Bahamas Hotel & Allied Workers Union (BHAWU) over its unwillingness to recognise the union as the bargaining agent for workers and to negotiate an industrial agreement with it.

"I can see it looking like a shot at the union," Mr Goudie said. "Every business anywhere in the world has a right to try and survive and people will do what they can for their business. Businesses are not a social safety net, period."
Although the government insists Sandals could have laid off employees for the short period during which renovations are being conducted, the resort has insisted that it reacted the only legal way possible.
Mr Goudie yesterday agreed.
"What they did was totally correct under the Employment Act," he said. "People think what they did is an example of union busting. That's not what I think. They did what they did to make the business good."
Sandals' actions prompted Director of Labour Robert Farquharson to urge the NTC, which he co-chairs, to agree to his department's recommendations seeking to change the country's laws by making it illegal for an employer to terminate more than ten employees without notifying and consulting the government at least 60 days before its proposed action takes effect.
The Department of Labour also wants the NTC to agree to recommendations that would lift the cap on how many years severance pay employees will be entitled to from 12 to 30.
Mr Goudie said while he is not yet ready to state a position on the recommendations, he has met with various groups and their "reaction is negative."
"We have met with the hotel groups," he said. "We had a board of directors meeting. We had a meeting with my employment and labour committee meeting this afternoon (Thursday). There is another meeting of the Tripartite Council next Thursday which will be the first time we'll sit down since we have seen the document."
Asked yesterday about this matter, Mr Gibson stressed that the recommendations from Mr Farquharson did not come from Cabinet and that it is up to the Tripartite Council to make recommendations to the government.