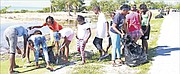 VOLUNTEERS stepped up to play their part in an international cleanup on Saturday.
The annual International Coastal Cleanup is the world's largest single-day volunteer effort to clean up beaches, lakes and rivers, and Dolphin Encounters - Project BEACH organised an event on Saturday from 8am to 10am at South Beach near the pools off East Street South.
Every piece of trash volunteers found will be tracked and included in an annual index of global marine debris to be released next year. Last year, 791,336 people picked up more than 18 million pounds of trash along 25,188.5 miles of coastline.