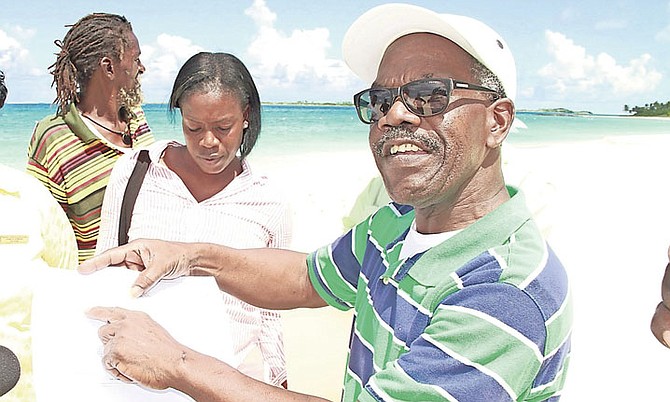 By RICARDO WELLS
Tribune Staff Reporter
rwells@tribunemedia.net
AS tension over the presence of vendors on Cabbage Beach escalates, one Paradise Island property manager is firing back at claims that he is the one behind efforts to have the group removed and jailed for trespassing.
Tony Knowles, general manager of the Paradise Island Beach Club, told The Tribune that allegations made by Cabbage Beach Business Owners Association (CBBOA) President Monique Taylor on Thursday are inaccurate, accusing her of misrepresenting operations at the property.
Mr Knowles claimed that the vendors are not being harassed and removed as punishment for operating on the beach, but because they have opted to "set up shop on private property" as they continue their fight against other property owners adjacent to the Paradise Island beach.
He said his interaction with the group only started in recent weeks, noting that following the recent court ruling that negated the association's claims that its members had the legal right to operate businesses from the lots bordering Cabbage Beach, the vendors opted to move further east along the coast and set up shop "in his backyard".
The resort operator said while he sympathises with the group's ongoing issues, he does not believe it is fair to property owners that the vendors should have a right to operate their enterprises as they see fit.
"Hold your claim and do what you must," Mr Knowles said of the CBBOA members. "Just not at my front door. It isn't right. There was a lot of work placed into building the brand of the Paradise Island Beach Club, and I am not going to sit back and allow these people set up their stalls and small shops on my property.
"They have no respect or regard for anyone else trying to make a living from this beach. They refuse to act accordingly and organise themselves in a manner that encourages best practices. Where is the portable bathroom for their clients? If they were serious about creating legit businesses, shouldn't they work to ensure sanitary conditions for visitors? All they do is (allegedly) harass the people that come out to this beach for leisure. We have to be responsible for the future of this industry. No one is saying that they can't operate here; all we are saying is do so in a sustainable manner."
Mr Knowles said members of the CBBOA refuse to adequately police themselves, accusing the group of rank deficiencies and a lack of institutional control.
"They can go on and on about the high water mark and where property lines start and stop," he said. "But the reality is this: we are trying to protect the tourism industry and a group like (the CBBOA) doesn't do nearly enough to improve the Bahamian product. At the Paradise Island Beach Club, we have visitors who have been coming here for years and we work very hard to ensure that they want to come back."
He flatly refuted claims by Ms Taylor that his employees comprised over 80 per cent foreigners without the proper work permits.
In May, Supreme Court Justice Bernard Turner sided with landowners Access Industries over the dispute as to whether vendors had a right to work on the beach. Justice Turner acceded to a position put forward by legal counsel for Access Industries suggesting that the association did not hold the legal position to file an injunction or block the property's owners from restricting vendors.
In 2014, ownership of the Cabbage Beach property was transferred from Atlantis - owned by Brookfield Asset Management - to a subsidiary of Access Industries, the One&Only Ocean Club.
A second access path further east, between the Paradise Island Beach Club property and the Ocean Club Beach Estate at the bottom of Garden Drive, is now being used as the primary access by vendors. As a result, many of the vendors have opted to remain near the access point in a bid to attract guests as they enter the property.
Responding to this aspect of the issue, Mr Knowles said: "No matter how they pout and complain, the bottom line is that you can't set up a lemonade stand on private property, no matter how profitable a lot you think it can be.
"Yes they have licences to operate on public property. But the easement is an easement for beachgoers. It isn't a strip mall or a place to offer goods and services. The boardwalk is a passage built to lead on to the beach, not a sales office. They can walk up a down the beach and sell their products, man knock yourself out, but you can't set up shop on private property or the boardwalk."
Mr Knowles recommended that members of the CBBOA negotiate a deal with the government of the Bahamas to buy a small section of beachfront property near Cabbage Beach, which can be used to construct several stall areas.
In March, dozens of irate beach vendors blocked traffic on the bridge over to Paradise Island in protest of the sudden closure of the main entry point for vendors to the beach. That incident led to the arrest of at least two persons and further protests.
The dispute climaxed with the tearing down of the fence erected in a bid to block access to the property by vendors. Subsequently, 10 persons were taken into custody, charged with destroying private property.