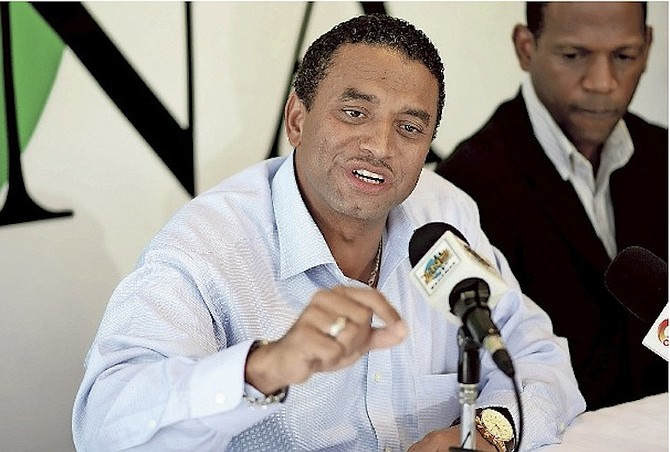 Reader poll
Yes, it is a useful investment. 9%
No, it is not. 91%
156 total votes.
By RICARDO WELLS
Tribune Staff Reporter
rwells@tribunemedia.net
DEMOCRATIC National Alliance Leader Branville McCartney yesterday said the Christie administration owes the Bahamian people a huge apology in the wake of claims that Bahamas Junkanoo Carnival was never intended to yield a profit.
Insisting that the country has been intentionally misled by the government and officials from the Bahamas National Festival Commission (BNFC), Mr McCartney has called on the government to scrap future plans for the festival until a more "financially feasible plan" could be produced and implemented.
The former Bamboo Town MP said while he ultimately expected a cost overrun for 2016 festival, the profitability claim proves that the Christie administration knew from the festival's onset that it could not make the event profitable or successful and still opted to introduce it.
"We are spending in vain, and the scariest aspect of this whole matter is that the government stood there and presented us with the festival under the guise that it would earn us money," Mr McCartney said.
He continued: "Now we are two years in, no money made, and now they have the gall to stand there now and tell us that they never thought this would make money. Reckless. That is all I can say about this situation because they know the financial climate of this country and they have opted to spend roughly $20m over two years on a festival that hasn't earned one single dollar of revenue.
"Bahamians ought to be irate, angry, unforgiving; if you listen to the comments made by (BNFC Chairman) Paul Major, all you can conclude is that the government knew how this would play out and still misled the public.
"The government has and continues to operate recklessly. If they knew this was a fruitless endeavour, why did they press it? Do they think it was wise to do this in a time when they know our country is struggling financially?"
Mr McCartney contended that taxpayers shouldn't be saddled with the burden of funding a public party.
He further demanded that Prime Minister Perry Christie and Tourism Minister Obie Wilchcombe provide an account of the government's impression of Mr Major's claims.
On Monday, officials revealed the total cost for this year's carnival event was $9.8m with a government subsidy of $8.1m.
A day later, when pressed by reporters over the financial implications of the annual event, Mr Major condemned opponents of the festival who continue to look at the country's annual investment, instead of the carnival's "economic impact".
He said the festival was never and will never be about turning a profit on investment, explaining that no variation of carnival hosted around the world has generated a profit for its host nation.
"Nowhere in the world is a carnival a profit venture. In Trinidad they spend, I think we estimated somewhere around, based on the conversion, $40m a year," Mr Major said.
He claimed the success of such a festival must be measured by the thousands of persons that benefit from it indirectly and the economic benefits stimulated by it.
Those claims on Tuesday were slammed by Free National Movement (FNM) Deputy Leader Peter Turnquest, who called the entire festival scheme "unreasonable," "unbelievable" and "dumb".
He, like Mr McCartney did yesterday, insisted that the Bahamian economy could not sustain another year of this level of reckless spending.
Last year, the government spent $11.3m on the inaugural festival, going over its initial budget of $9m, with the total cost of the first carnival $12.9m, with the rest covered by sponsors.
Officials have contended that 85 per cent of expenditure associated with the festival was consumed locally.
Officials also projected a $70 million impact on the national gross domestic product (GDP) from carnival - $10 million less than 2015 estimates.
Carnival 2016 kicked off on April 15-16 in Grand Bahama and took place on May 5-7 in New Providence.