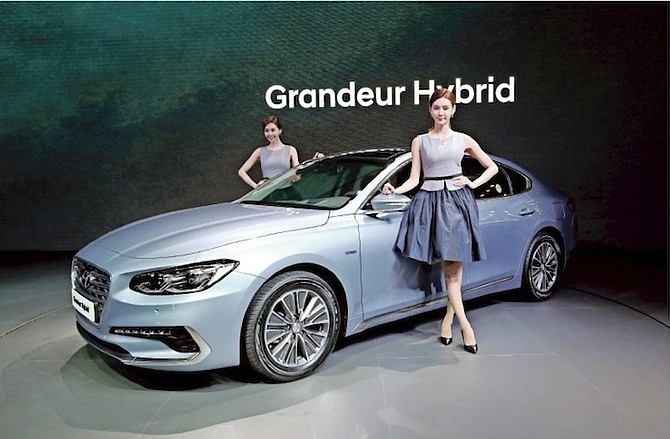 South Korea's largest auto show provides a look at the future of Asian premium cars and electric vehicles, as well as efforts by Asian auto and tech companies to catch up in the field of autonomous driving.
The biennial Seoul Motor Show opened last week in Goyang, north of Seoul, for a 10-day run. There are 243 vehicles on display. Two are making their world premieres: Hyundai Motor's Grandeur hybrid electric vehicle and Ssangyong Motor's G4 Rexton sports utility vehicle.
Eighteen others are making their Asian debuts.
Although usually smaller than auto shows in Frankfurt, Detroit or Shanghai, the Seoul Motor Show is nonetheless a place to read auto trends and consumer tastes among trend-setting, tech-savvy consumers in the world's most populous continent.
This year's highlight is Kia Motor's first luxury sports sedan, Stinger, which launches a new era for premium sports cars built in South Korea, home to the world's fifth-largest automotive group.
Growing interest in environmentally friendly cars among South Koreans will be in the spotlight as well.
The show is missing Volkswagen and Audi, after South Korea halted sales last summer of dozens of their diesel car models for using software to cheat emission tests.
Here are some highlights of the show:
HYUNDAI
Hyundai Motor is putting its electric vehicles at the forefront. It is revealing the hybrid electric version of its steady-selling Grandeur sedan which boasts a claimed fuel efficiency of 16.2 kilometres per liter (38.2 miles per gallon). It also is giving a first look at a fuel cell concept car. Hyundai plans to release its second-generation fuel cell electric vehicle early next year.
An executive demonstrated how in the future humans will be able to speak to a device to summon a driverless car to one's door. In 2019, Hyundai, South Korea's largest automaker, plans cars that will allow drivers to remotely turn on the lights or set the temperature inside a house.
ELECTRIC VEHICLES
About one fifth of the vehicles on display are electric, a sign that automakers are responding to the South Korean government's push for more electric vehicles. South Korea plans to increase the proportion of environmentally friendly vehicles in the domestic market to 20 percent by 2020 from just 2 percent in 2015. If it achieves that goal, more than 1 million electric vehicles will be sold in the country by 2020. Jaguar, Honda, Lexus, Toyota and Mercedes-Benz are using the Seoul Motor Show to show their existing electric vehicles, while Hyundai, Kia and Genesis are presenting their plans for plug-in models, fuel cells and hybrid cars.
Associated Press