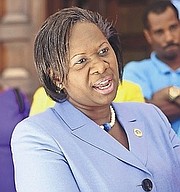 By NICO SCAVELLA
Tribune Staff Reporter
nscavella@tribunemedia.net
FOLLOWING a landslide victory over her chief opponent, former vice president Zane Lightbourne, Bahamas Union of Teachers president Belinda Wilson said on Friday that the win has "vindicated" her over the allegations that led to her controversial suspensions from the union. 
In an interview with The Tribune the morning after the union's elections, the embattled unionist said she won "overwhelmingly" over Mr Lightbourne for the top post.
Mrs Wilson said the unofficial results indicated that she won in nearly every island, with New Providence voting "heavily" in her favour. 
Labour Director Robert Farquharson also confirmed that Lorraine Knowles and Mizpah Munroe succeeded in being elected as union Treasurer and Trustee, respectively. Mr Farquharson said the Department of Labour is still awaiting results from some Family Islands, which he expects to be submitted by midday on Monday.
"The results were not even close," Mr Farquharson said of the unofficial results. "They were extremely lopsided."
Meanwhile, Mrs Wilson told The Tribune that it is now up to her opponents and dissenters within the organisation "to accept and to swallow the bitter pill" as "the people have spoken loudly and clearly".
She emphasised that those critics will "have to make a decision whether they will remain or whether they are going to leave" but maintained that she was a mature woman and would conduct herself in a professional manner.
Mrs Wilson said she intends to speak with each executive "individually and also collectively" to let them know that she was not returning "for friends and friendship, but to do the people's work".
According to Mrs Wilson, she defeated both Mr Lightbourne and Jacqueline McKenzie for the union's leadership; Mrs Knowles defeated former acting treasurer Terez Conliffe; while Mrs Munroe and Vernincha Simmons defeated Marguerite Albury and Victoria Willis for the Trustee positions.
Jude Knowles-Turnquest is the BUT's vice-president, after defeating Mr Lightbourne in a "partial election" last June. 
"I feel vindicated, and I'm really humbled by the support that I would have received from the teachers, and not only in New Providence but throughout the Commonwealth of the Bahamas," Mrs Wilson told The Tribune. "Because based on the numbers it seems as though I would have won every island except for one. And New Providence really voted heavily in our favour. But to me it shows that I'm the individual whom the members want to represent them at this time.
"I think the members' voting yesterday was not only vindication for me and my team, but I think their voting yesterday and voting so overwhelmingly for us is that hey we're tired of it, we want the individuals in the seat who are going to work on our behalf," she added. "And I believe that they would have shown us that yesterday, that Belinda Wilson, Lorraine Knowles, Mizpah Pintard Munroe and Vernincha Simmons are the persons for the job."
Mrs Wilson and Ms Knowles had been suspended for six and three months respectively in December, 2014, due to concerns from the union's executive committee that more than $1.1m from the union's pension and savings account had been wrongfully spent.
In March, 2015, Mrs Wilson and Mrs Knowles were again suspended for "blatant violations" of the union's constitution. Mrs Wilson was later hit with an "indefinite" suspension pending the results of a police investigation into alleged violations of union procedures. 
At one point, Mrs Wilson had instructed her attorney, Wayne Munroe, QC, to take legal action against people who had spread untruths about her controversial suspensions. 
However, she told The Tribune that she is prepared to work with those who rallied against her, adding that the onus is now on them to accept the election results and her consequently reassuming control of the organisation. 
"First of all I am a mature woman, and so I believe that I may be among the eldest on the executive committee," she said. "And so I - first of all as a wife, a mother and a Christian - have to conduct myself in a professional manner. The second thing is it was actually them, most of all, slinging mud and attacking me. Very few times you would have heard me respond. So it's up to them to accept and to swallow the bitter bill, that after all they would have done, the people would have returned me to office, and in the largest ... this is the largest win ever in the history of the union. So that speaks volumes within itself. 
"And I can say to you that the members expect us to go in there and to do their work, and that's what I intend to do. I intend to speak with each exec individually and also collectively and to let them know, I am here, not for friends and friendship, but to do the people's work."
"The people have spoken loudly and clearly, because based on the numbers now I'm leading him by about 600 votes with only probably about 40 or 50 votes to come in," she continued. "So whoever it is who has a problem with me being the leader, they're going to have to make a decision whether they will remain or whether they are going to leave. That's personal to them. 
"But I've been elected. The members have elected them, I am open, I am prepared to go in and work with them, because it's not about us, it is about representation for our members from Grand Bahama to Inagua. That is why we are there to represent our members, to protect our members' rights."