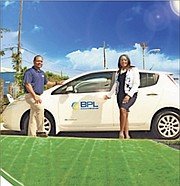 Bahamas Power and Light (BPL) has become the latest organisation in the country to acquire electric vehicles (EVs) for their company fleet.

To date, BPL has purchased two 100 per cent electric Nissan LEAFS from the local EV distributor, Easy Car Sales.

According to Mr. Angel Abreu, Vice President of Customer Service at BPL, the company is already recognising the benefits of switching to a greener transportation alternative.
"We're moving towards cleaner, more cost-effective and reliable transportation at BPL.
"We have tested the 100 per cent electric cars on the roads for several months now, and we are very pleased with their performance, reliability and range.
"They make sense for the environment and for our bottom line," said Mr. Abreu.
A major part of the cost savings for BPL is in gasoline expenses.
The average cost of electricity to charge the EV is about five cents per mile, or five dollars for 100 miles of travel, making the cost of running an EV less than one third compared to a typical combustion engine vehicle.
In addition, maintenance costs are minimal as there is no combustion engine to service.
Nissan LEAF, the world's best selling EV, is 100 per cent powered by electricity and uses a standard 120 plug or a 240 volt charger to power the electric motor.
BPL announced recently that they are making a free charging station available to EV customers in their Blue Hill Headquarters. Two other public charging stations are now available at the Bahamas National Trust on Village Road and The Island House in Lyford Cay.
In addition to being the only distributor of EVs in The Bahamas, Easy Car Sales also has Nissan-certified EV technicians on staff to service vehicles should issues arise, and the required diagnostic tools.
"We are thrilled that BPL is investing in zero-emission EVs. It shows that organisations can make business savvy decisions that not only work for them but are also good for the environment," said Pia Farmer, Director at Easy Car Sales.
"As an EV driver myself for the past three years, I know the satisfaction of owning an electric car.
"I purchased it for environmental reasons, but I quickly understood that it costs less to own, it's easier to maintain, it's reliable and I really enjoy driving it."