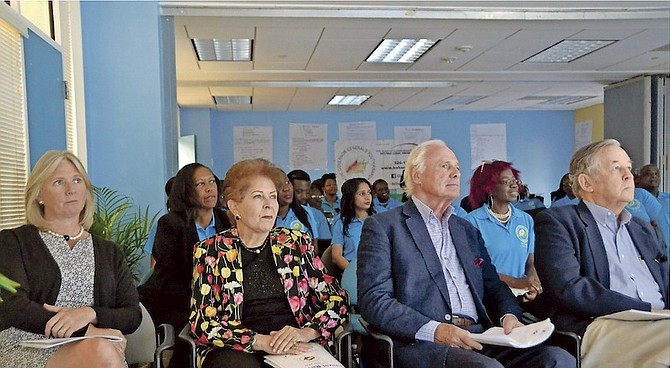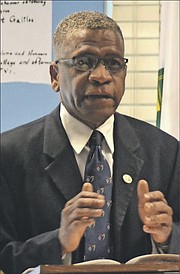 TRIBUTES were paid to former Governor General Sir Orville Turnquest at the annual general meeting of the Governor General's Youth Award as he steps down as the organisation's chairman of the board of trustees.
"I am honoured to follow Sir Orville as he did great things while on the board," said incoming chairman, John Bethell Jr, in his first public address to the youth self-development programme over the weekend.
Following the sudden death of Robert Nihon in 2007, Sir Orville stepped in for what was supposed to be a short stint, while a suitable candidate could be identified. The temporary post lasted a decade.
"Sir Orville Turnquest has become synonymous with Governor General's Youth Award (GGYA). He has been with us for many, many years. I call him the father of the GGYA," said Jack Thompson, chairman of GGYA's management council. "There comes a time when you have to pass the baton on. We are indebted to him for the years, for his guidance, his leadership and his vision."
Ironically, it was during Sir Orville's time serving as governor general in 1987 that the organisation changed its name from the Duke of Edinburgh's Award to its present moniker. Thus, as the one who approved the change, Sir Orville was the award's first national patron.
During his term as chairman, GGYA grew to become one of the largest and most vibrant organisations in the Americas region. According to stats released in October 2016, by the Americas Awards, the Bahamas is second in the region in number of participants. Canada is first.
"This programme was designed to promote in young people a spirit of self-worth, of enterprise and of commitment to the betterment of our community," said Sir Orville in his final, written AGM address as chairman.
"It is therefore heartening to see young people who are susceptible to failing – instead, excelling and choosing positive and productive paths."
Sir Orville noted that the organisation's 30th anniversary poses a fitting time "to focus and remind ourselves of the key role" GGYA has played in the lives of youths across the nation.
It was a "privilege and honour" to serve as the patron and chairman of an organisation "unmatched among youth groups worldwide," he wrote in his welcoming remarks in the Saturday, April 8, AGM booklet.
Sir Orville said he tendered his resignation "knowing that the programme continues to excel, and that it is in excellent hands for the future."
Incoming chairman Mr Bethell espoused two main goals. He is principally concerned with growing the organisation, which had 1,937 participants and disbursed 553 awards in 2016. A second focus is to raise the funds necessary to sustain growth.
"I will do my very best along with my fellow trustees to continue to grow the GGYA and make it one of the best organizations in our country," said Mr Bethell.
The award is comprised of three levels (bronze, silver and gold) each progressively more challenging in time and demands.
It is comprised of four sections: service, skills, physical recreation and adventurous journey (hiking component). At the gold level, a residential (community service) project is required to be executed while camping away from home.
The AGM affords the organisation an opportunity to review its successes and challenges of the preceding year, while developing strategies and methods to further strengthen the programme during the current year and beyond.
"In this tight austere time when many have seen great cutbacks, the work of this organisation has continued to move on," said Everette Mackey, treasurer of GGYA's management council. "All of our goals and targets may not have been met due to various challenges but we continue to press on. We stayed in the black last year and that was great."
In 2016, the programme was also successful in increasing diversity. An all-inclusive organisation, GGYA welcomes disadvantaged youths, those from ethnic minority backgrounds and individuals with a physical or learning disability.