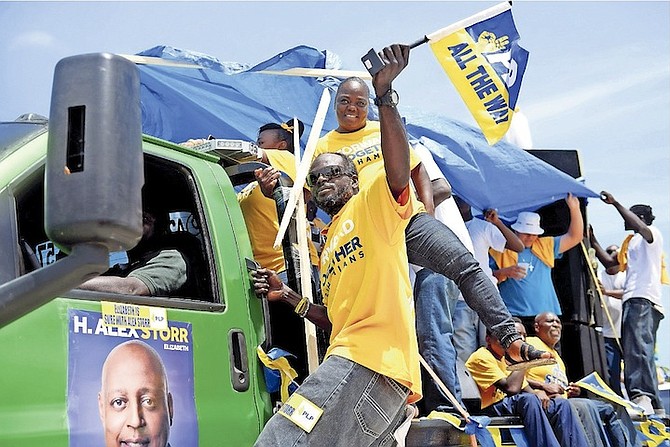 By SANCHESKA DORSETT
Tribune Staff Reporter
sdorsett@tribunemedia.net
PRIME Minister Perry Christie last night implored Bahamians to "come out in the thousands" on Thursday for the Progressive Liberal Party's (PLP) first mass rally "on the road to victory".
Addressing thousands of party supporters at a PLP fun day on Monday night at Arawak Cay, Mr Christie said the PLP will go "head to head" with the Free National Movement (FNM) and the "winner will take all".
The FNM also has a rally scheduled for Thursday at R M Bailey Park.
The Prime Minister said he wants to show the FNM that The Bahamas is still 'gold, gold, gold".
"It is so good to see so many of you out here, I am told that you sank the ground in Nassau with the motorcade and I was speaking to the Deputy Prime Minister who was on the motorcade in Grand Bahama and it was so big and so strong," Mr Christie said.
"We will march throughout the Bahamas to victory. The season of elections has started. I have told you before the PLP have the best team; there is no doubt man for man, woman for woman the PLP has the best team that will form the next government of the Bahamas.
"We are going to have a rally on Thursday evening. On Wednesday we will be in Andros, we go in the morning to do a ground breaking. We then go to Abaco to open a mini hospital then we fly back to Andros to tell the people why they will vote for the PLP.
"But on Thursday we will tell you where it will be but the most important thing is you have shown the people of the Bahamas that you will come out by the thousands to support the PLP.
"That will set the stage for Clifford Park. So make sure when they call you to come, we want to sink the ground and we show gold, gold, gold. On Saturday, I skip from Friday because I don't want the FNM to know where we will be on Friday yet because I want to go head to head with them. When they call theirs over there we will call ours over here, winner take all."
Meanwhile Deputy Prime Minister Philip Davis lashed out at the FNM for their recent criticisms of the government.
Last week, the FNM accused the government of giving out jobs for votes.
"If people are out of work should we not help them?" Mr Davis asked.
"Are they advocating that people who are out of work should not have jobs? It is shocking that they criticised us for not hiring people and then when we do they get mad and criticise us."