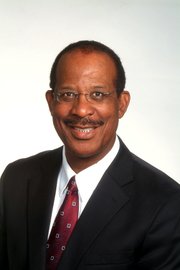 By RICARDO WELLS
Tribune Staff Reporter
rwells@tribunemedia.net
FREE National Movement Chairman Sidney Collie has alleged that dozens of his party's campaign signs placed along West Bay Street have been removed and replaced by Progressive Liberal Party posters, this as complaints over the destruction of election posters continue to mount.
In a statement to the press Tuesday, Mr Collie noted the alarming rate by which both FNM and PLP campaign signs have been "defaced and vandalised" recently, calling for supporters and party members on both sides to end these "discourteous and immature" tactics.
"It has come to my knowledge that both the FNM and the PLP have had their campaign signs defaced or vandalised in recent days," Mr Collie noted. "Dozens of FNM signs were placed along West Bay (Street) late last week.
"As of today, the vast majority of those signs have not only been removed, but replaced with a PLP candidate's signs.
"Having heard a similar call for deference by Bradley Roberts, I have no doubt that the PLP has unfortunately had many of their signs vandalised as well."
The statement continued: "Out of reverence to free speech, fair elections and most importantly respect for each other, I call upon the supporters and leaders of all parties to end these discourteous and immature tactics.
"Stealing or harming another's property, whether during an election or not, accomplishes nothing and only brings shame upon the perpetrator.
"I ask all party leaders, campaign organisers and party volunteers to do their due diligence in echoing this call for mutual respect. Bahamians deserve a government that acts nobly, responsibly and democratically and this must begin with each of us leading by example," the chairman's statement concluded.
Speaking at the PLP's Easter Monday concert, Deputy Prime Minister Philip Davis said that vandalism has no place in politics.
The Cat Island, San Salvador and Rum Cay incumbent accused the FNM of being behind the recent spate of destruction of PLP posters and billboards.
"I am happy to say that we have not joined the FNM in their conduct and it shows the desperation that the FNM has," stated Mr Davis.
He added: "As I said before, they awoke a sleeping giant and now they are scared. The acts of vandalism show how desperate they are to win the election."
In a statement of his own Sunday, PLP Chairman Bradley Roberts indicated that he made a formal complaint to Commissioner of Police Ellison Greenslade on Saturday.
Mr Roberts said that several of his party's candidate billboards had been torn down and defaced in New Providence, Freeport, Abaco, Eleuthera and Long Island.
Branding the actions as "vandalism," Mr Roberts said the occurrences set a negative and offensive tone to the upcoming general election.
On several occasions, both Mr Roberts and Mr Collie have called for a peaceful election season.
Despite the appeals, however, vandals have damaged the billboards for PLP candidates in Golden Isles, Seabreeze, Long Island and other areas.
Moreover, the constituency office of Mark Humes, FNM candidate for Fort Charlotte, was hit by thieves last week.