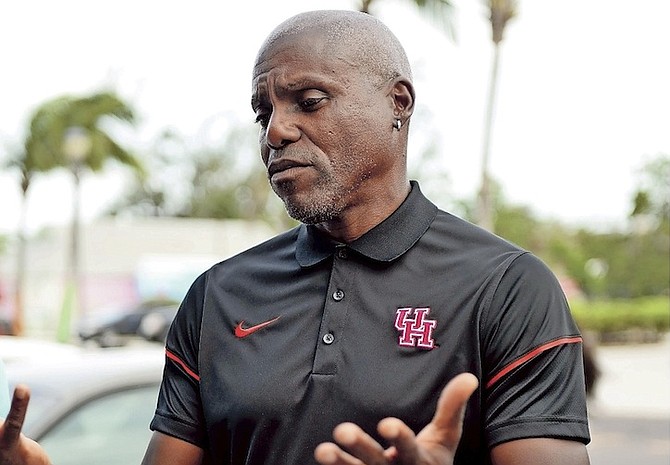 By BRENT STUBBS
Senior Sports Reporter
bstubbs@tribunemedia.net
Carl Lewis had an illustrious career that spanned at least two decades as the most decorated sprinter/long jumper of all-time. But of all that he's accomplished, he wished he had the opportunity to compete in the IAAF World Relays.
Lewis, a long-time close friend of former University of Houston team-mate Frank Rutherford for more than 30 years and co-worker of current Cougars' assistant coach Debbie Ferguson-McKenzie, is in town to view the third edition of the World Relays at the Thomas A Robinson National Stadium this weekend.
"I don't think that there's any day that I get up wishing something else," said Lewis of the competitions that he got to compete in. But the biggest thing is that it isn't like that. That isn't how the world is. I only had the World Championships every four years, so it would have been great to have it every two years, it would have been great to have had World Relays. I would have loved to have those two events, but we didn't have it."
If there's one discipline in track and field that the fans love to see, it's the relays, according to Lewis, who ran on some of the top-ranked American relay teams during his tenure.
"You see these fast times from these 18 to 19-year-olds and so it's a great event for them."
Yesterday, the winner of nine Olympic gold medals, one silver medal and 10 World Championships medals, including eight gold, was entertained by proprietor Vincent 'Curly' McDonald at Curly's at Arawak Cay Fish Fry.
At the same time, he was also introduced to Demetrius Pinder, Steven Gardiner, Michael Mathieu and Anthonique Strachan, who are all preparing to represent the Bahamas at the relays.
The athletes, who took the time out to meet Lewis after their training camp, were accompanied by team manager Philippa Arnett-Willie. "It's been a while," said Lewis about one of his many visits to the Bahamas, including in the year 1992 to help Rutherford celebrate his triumph as the first Bahamian to win an Olympic medal in Barcelona, Spain.
"When I retired from track, I actually got away from it completely I didn't do anything. I just worked with my foundation and did things for 15 years. Four years ago, I moved back to Houston to just volunteering and now that has moved into coaching."
Lewis' trip here for the World Relays is three-fold. One of his athletes from Perfect Method is competing on the United States of America's team; Mario Burke from Barbados is also one of his athletes and he wants to help the USA win their first major 4 x 100m relay at the relays.
"I will never be in an official role, but I have a number of athletes who will be coming in the next few years on the USA team for the World Relays," he said.
Urged on by Heshies' chocolate company to do some promotional events, Lewis said he gradually found him getting into the flow of things in athletics once again.
Always a part of successful USA teams that competed in the past, Lewis acknowledged that the 2012 Olympic Games was the worse for the American men, who fell victim to the Bahamas 4 x400m relay team and the Jamaican 4 x 100m team.
With all of the great athletes and the superb colleges and universities that produced a lot of their young stars, Lewis said he decided to get back to doing his part in revitalizing their Olympic programme.
"They allowed me to go out and do my own recruiting and I got full access to all facilities at the university for any athlete that goes through the programme, so our university programme is a training ground for the Olympics now."
Compared to when he was competing, running personal best times of 9.86 in 1991 in the 100m, 19.75 in the 200m in June 1983 in Indianapolis and 8.87 m (29 ft 1 in) 1991, w 8.91 m (29 ft, 2 3/4 in 1991 in Tokyo, Japan, Lewis said it's good to see that the times are back to normal now.
But he admitted that while he did very well in securing the lucrative deals, endorsements and incentives when he was competing, his only wish is that there is even more cash prizes being offered to today's athletes.
"I think we need to continue to work hard to get more," he quipped. "We should be getting $1.2 million per event. The NFL is a $9 billion dollar investment, so that is what we should aspire too.
"We should push for more and see how the athletes can work with the federation and the organizers to get the prize money up. I want more. What is missing from track and field is the middle class."
Just as it was when he competed, Mitchell said it's obvious that the BAAA will have to find a way to generate the necessary sponsorship for the National teams to travel," Adderley stated. "We have to be able to put persons in place who can help to make it happen."