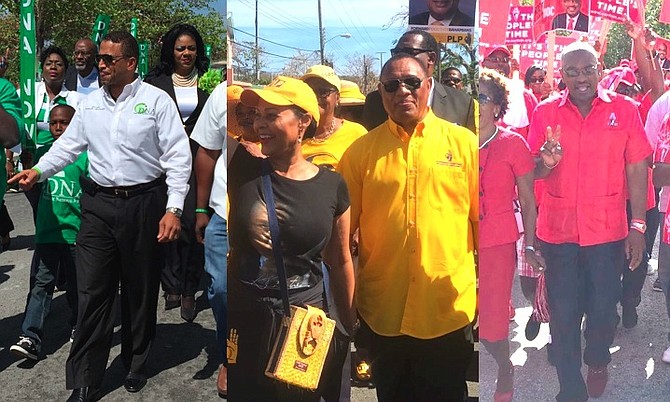 Today is Nomination Day and tribune242.com will bring you all the highlights as candidates nominate for their constituencies surrounded by supporters, flags and motorcades . . .
9.30am: Greg Burrows arrived just after 9am in Bamboo Town with about 40 supporters clad in gold shirts. They marched from nearby Gamble Heights.
9.55am: Mr Burrows says he feels confident he will be the next Member of Parliament for Bamboo Town, despite being the newcomer. He added that his resumé speaks for itself.
10.10am: FNM Leader Dr Hubert Minnis has arrived at HO Nash Jr High School to officially nominate.
http://youtu.be/r3736a5hcCQ
10.20am: PLP Marathon candidate Jerome Fitzgerald showed no signs of being affected by today's headlines, as he danced his way through his constituency.
10.30am:
http://youtu.be/3VgctFwU4no
10.35am:
http://youtu.be/ElNi1pIi1iw
10.40am: John 'Chippie' Chipman, the grandfather of FNM Centreville candidate Reece Chipman, has come out in support of Prime Minister Perry Christie.
10.45am: At his Centreville constituency, Prime Minister Perry Christie dodged questions regarding Jerome Fitzgerald and Baha Mar.
11.05am: Jerome Fitzgerald stays calm amid Baha Mar allegations - full story HERE
11.10am: Reneika Knowles is officially nominated as the PLP candidate for Killarney - after a slight delay with the verification of the signatories on her nomination papers.
http://youtu.be/fBFQjJO-wgQ
11.20am: DNA Leader and Bamboo Town candidate Branville McCartney arrived in the constituency with a motorcade and Junkanoo rush out.
11.25am: This receipt (right) was posted on Loretta Butler-Turner's Facebook page. She has nominated and is officially no longer a member of the FNM.
http://youtu.be/iOj1WsTYne8
http://youtu.be/ctPcmEZzfjg