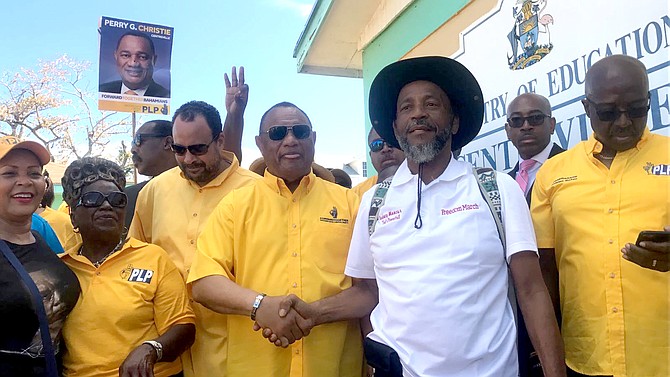 By AVA TURNQUEST
Tribune Chief Reporter
aturnquest@tribunemedia.net
FORMER Senator and controversial radio personality Rodney Moncur yesterday endorsed Prime Minister Perry Christie's candidacy for Centreville, insisting that Free National Movement (FNM) Leader Dr Hubert Minnis was "politically dishonest".
Mr Moncur made an appearance at nomination proceedings at Centreville Primary School, where he told reporters: "I support Christie, let there be no doubt I support Christie."
When first questioned about his presence, Mr Moncur explained that he was "playing family" by coming out to Mr Christie's nomination.
He underscored that while he identified as a member of the FNM and loved the party, he was disgruntled with Dr Minnis.
"I think Dr Minnis has demonstrated an element of political corruption that we've never seen in this country before," he said, referring to the lease agreement Dr Minnis held with the Public Hospitals Authority while he was minister of health under the previous Ingraham administration.
However, it has been previously reported that the contract was issued by the first Christie administration before Dr Minnis was a government minister. It has been reported that Dr Minnis asked the PHA to rent from someone else once he was a Cabinet minister; however the PHA reportedly could not find a suitable alternative and the contract continued on a month-to-month basis.
Mr Moncur maintained that he was still abstaining from voting because he had not received an invitation from any political leader to reconsider. He encouraged persons that had difficulty voting for the FNM or the Progressive Liberal Party (PLP) to join him on the beach.
Mr Moncur said: "I'm going on the beach because no political leader has asked me to reconsider, and I'm saying to those who have a difficulty in voting for the FNM or have a difficulty in voting PLP, join me on the beach.
"As it relates to Mr Christie," he said, "I think the people of Centreville should recognise that they are privileged to have a prime minister, and Mr Christie has always been a commander of the social revolution."
He continued: "I'm an FNM, I love the FNM. If you look at me I'm red, I really belong with the FNM but I cannot support Dr Minnis. Dr Minnis has been politically dishonest."
Yesterday, Mr Moncur denied reports that he had been fired from sports radio station ZSR 103.5FM, which airs his show "Freedom March". He told The Tribune yesterday that he had "parted ways amicably" with the station because he was considering options.