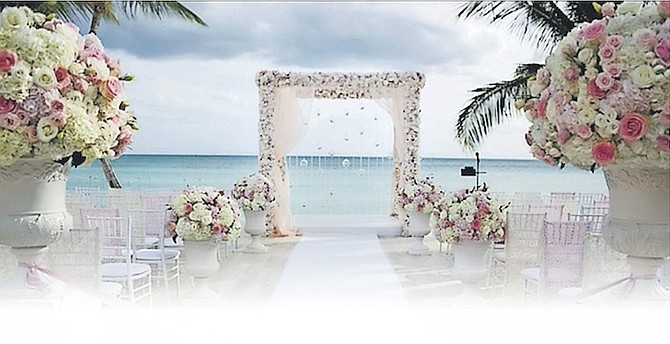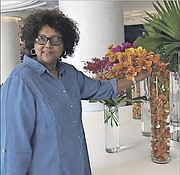 By JEFFARAH GIBSON
Tribune Features Writer
jgibson@tribunemedia.net 
Witnessing special events at the White House in her youth and throwing elaborate parties for friends and family is what sowed the seeds for Natalie Appleyard's extremely successful event planning business.
As founder and creative director of Wildflowers Events & Occasions – one of the most sought-after event production companies in the Bahamas – Natalie has not only found professional success, but also her life's passion.
Natalie's career in event planning began almost 40 years ago when she was just a teenager looking to throw the best parties for relatives.
"My father was an ambassador in Washington and I lived with him for a few years. I did all of his parties over there. I would go with him to the White House and saw what they did and I wanted to do better than that," she said. 
In order to put her talent to work for her, she began planning events for anyone who would let her. This was a win-win scenario for her, since friends and family members were always impressed with what she put together and Natalie got an opportunity to put her design skills to the test. 
"I always designed my friends' birthdays. When I did birthday parties for children, the parents would say, 'That's a birthday party for a child?' Then friends wanted me to do their dinners parties. My friends would call me Martha Stewart from the Bahamas because I love to cook and decorate.
"Then someone asked me to do the décor for their wedding and I did. My girlfriend gave me the funds I needed money to buy flowers and decorations because my company was not started at the time," she said. 
The word began spreading about Natalie's talents, which led to the Atlantis resort engaging her services. Today, her company, which offers a myriad of décor and accessories, helps produce weddings and events for properties such as Lyford Cay, Albany and Ocean Club. 
"I was (doing elopements) for free because I wanted to do it. Then I had another lady who asked me to design her wedding and I did. Then finally Atlantis saw what I did they said, 'Would you like to do weddings for us?', and I said 'Yes'," she said.  
At the same time, Natalie was taking steps to officially establish Wildflowers, a business endeavor that now caters to more than 300 hundred events annually. 
"This business started in my garage. The first time I had bought candles I thought I had hit the jackpot. I kept the candles in my garage and every Sunday I would go in there and count them. I just had shelves of candles which I thought was the greatest accomplishment. So those shelves were my inventory. Then I moved my inventory to a 20x20 warehouse on Blake Road. I had a couple more things and I thought I was in heaven. Then it moved to another warehouse and then another warehouse. Finally, last year we built our own 20,000 square feet warehouse," she told Tribune Woman.
Natalie also credits her son with the success and growth of the company. She said he is the one who handles the business aspect of Wildflowers, while she tackles the creative side of things.  
"We are a one-stop shop. If you are a bride we can organise your entire wedding day, coordinate the décor, flowers, your DJ, band, limousines, videography, and catering. All you need to do is just show up on the day," she said.
With such vast inventory, Wildflowers can service everything from very large events to the most intimate of occasions. 
"We have tents that can accommodate up to 3,000 people, fully air-conditioned with our own generators to provide power to them. We have glass walls, about 8,000 chairs, from Chiavari to dark wood. We have farm tables, long tables, sofas and portable bathrooms. Our warehouse looks like Home Depot," she said. 
Natalie said she is very appreciative of her success and feels blessed to have a company that continues to flourish. 
But one of the most satisfying feelings that makes it all worth it, she added, is when a client sees the final package and is left awestruck.
"One of the things I tell my clients is that they have to trust me. I say to them, 'You came to me for a reason, so tell me what you like, tell me what your colour is and I can take it from here.' The best feeling in the world to me is when they walk into their tent or room and their first reaction is, 'Oh my God, this is so beautiful; this is beyond what I expected'," she said. 
"I am not ringing my own my bell, but I get that a lot. I had a bride who walked into her reception and she burst out crying. I said, 'Don't cry. You are going to mess up your makeup', and she said, 'I do not care about my makeup. You did all of this for me?' And if I have a real connection with the bride, I treat them as though they are my daughter." 
The road to a successful 17-year old business has been a combination of trial and error, overcoming challenges, learning and keeping on the cutting edge of event trends.  
Natalie's sense of pride in her talents goes hand-in-hand with the humility she exudes. She reminds herself that even as a veteran event professional and a successful business owner, she should always savour the moment and genuinely appreciate what she has built, because one day it may come to an end.