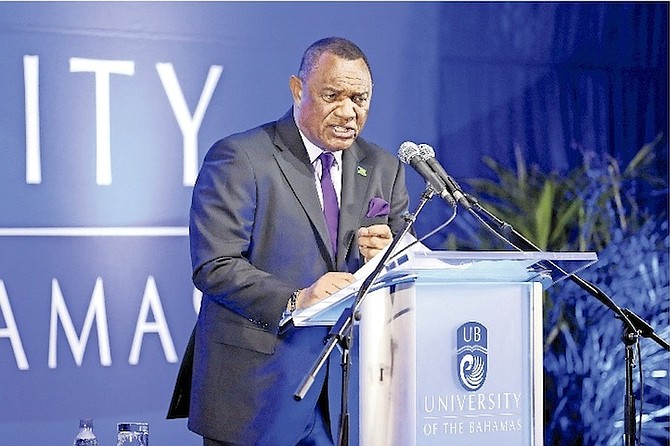 By KHRISNA VIRGIL
Deputy Chief Reporter
kvirgil@tribunemedia.net
DAYS after joking that "God can't stop him now" during a Progressive Liberal Party (PLP) mass rally in Exuma, Prime Minister Perry Christie sought to explain the context in which the comment was made and questioned how anyone could dare to doubt his faith or suggest that he believed he was more mighty than God.
Deviating from his prepared speech at a Broadcasting Corporation of the Bahamas event, Mr Christie said his comment was in "advocacy" to God not to let his speech come to an abrupt end, adding that he thought there had been a power failure while he was on stage speaking to supporters.
A passionate Mr Christie seemed to attribute the immense backlash he received over the remarks to politics, saying it has become clear that both the PLP and the Free National Movement (FNM) will compete in a way that is not helpful to the country.
However, he said through it all he has tried to "keep dignity and order" because as Prime Minister, he had an obligation to recognise that despite the "lies" told, people outside the country were watching.
He said: "When a Prime Minister like myself could go to St Paul's Baptist Church just before flying to Exuma for the funeral of Tom Bastian's son, the iconic union leader, and in that church speak to faith and the meaning of faith and quote verses from the Bible supporting faith, a verse that I am known to quote that the shield of faith in Ephesians chapter six will protect you notwithstanding what they throw against you, will protect you against the fiery darts and arrows, start by putting on the full armour, so when the day of testing comes you are able to stand your ground.
"I then told them that I have this overriding compelling feeling to see my mother again, my mother who is deceased. I am in church saying that, hours before I spoke in Exuma and I said the only way that I know how is through a personal commitment to faith.
"I fly to Exuma and I decided to tell the people of my story of overcoming the odds of education (and) telling them the Progressive Liberal Party will issue a new programme of the training of adults giving adults who missed the opportunity to have education, to be retrained. I said it's going to help us bring about a magnificent … and the microphone went out. I tapped it (and) I said 'Lord you can't do this to me. I'm in full flow in making a speech and look at that, a power failure'."
He continued: "And then somebody dared to question my faith, saying that I believe I am God or mightier than God. What they didn't understand is we had the religious leaders there in that audience. Some of them praying for us that day and all of them heard me in advocacy (say), 'Please God, I am talking to people who are constituents of mine, do not let this stop now.'
"How many times (do) I have to quote John 3:16 to let them know that I been to Sunday school? 'For God so loved the world that He gave his only begotten son'; how many times do I have to do that?
"But how can you ever believe that someone with my experience, with people who are church leaders in my family who I have said in the national Parliament that I made a mistake that I owe to them an apology because I have always guided my life by making them proud of me. Who took me to Sunday school and you question whether I understand God?"
"And so that there is not doubt in what I say like you, I believe in God. I believe in the omniscience, the omnipotence and the omnipresence. I believe that the true inheritance or the framers of the Constitution tried to enshrine or push the basis of Christian spirit and make us connected. As we sit here in this place commissioning this wonderful station, the God that I believe in is present with us because He is omnipotent in making it happen here, omniscient - all knowledge and omnipresent here with us," Mr Christie also said.
Faith
Mr Christie told those gathered that had they known he spoke to faith before the mass rally then it would have been harder to question his relationship with God.
"I am happy we have a Broadcasting Corporation of the Bahamas. Praise the Lord. I'm serious. I just want to be able to say that I have chosen to speak to the issue of truth because I understand too clearly that the only way I may be able to see my mommy again is through faith and through an enduring faith and so that you know that very same day I said to the people in my speech and that speech was recorded for broadcast, that we supposed to pay for, because in that speech I spoke to the redemptive power of second chance.
And I said to the people of Exuma that, for too long, you have not been participating in the economy of your country. I said look at my life where I was put out of school and had to fight my way back. God is good. I said God is awesome. I said that right in the same speech.
"I say these things only to say that I have the privilege of being Prime Minister and speaking to an audience of the Bahamas through the Broadcasting Corporation of the Bahamas. Sometimes it's very difficult in all that you do and say when we are engaged in the political arena.
"But what is very clear now is that both sides will be competing in a way that is not helpful to this country.
"I have tried my best to keep dignity (and) order and will continue to because as Prime Minister I have an obligation to recognise that notwithstanding the lies that are told about people, people outside this country are watching. We are defining ourselves as a nation on what we say and what we do about each other.
"I may be a calm and peaceful person, but I have a duty to advise and hopefully influence all who are a part of my leadership. But we have to be so careful that we do not divide so strongly that the division is permanent and harmful and involves hatred and dislike.
"We must be so careful as custodians of our democracy as to recognise that we have had wonderful battles in public life (and) wonderful elections where we have been able to peacefully transition from one party to the next. It is my hope that the spirit that binds us together, that Christian spirit, will enable us to continue to enjoy that."
Mr Christie's remarks in Exuma caused a backlash after video and audio of his comments went viral on social media.

"We are going to in this next term, turn Exuma into a fine example of what should happen," he said, as his microphone cut out before scores of supporters at the Exuma rally on Saturday night.
"Listen, it going so good, God can't stop me now," he continued, after tapping the microphone, to cheers and laughter.
But away from the rally, Mr Christie's "blasphemous" comment brought scorn, with Branville McCartney saying on Sunday night the remarks were "indicative of the lack of deference which he and other members of his government give to the Almighty" in a nation founded on Christian principles.
"The country has watched, many of us in utter disbelief, as the Prime Minister's arrogance, and outright disdain for all things spiritual has ballooned to match the incompetence of his administration," he said, making reference to Mr Christie's middle finger gesture at a PLP rally last month.