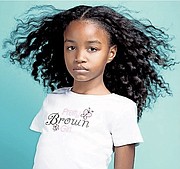 Have you ever wondered how to help your daughter unlock her hidden potential? Or how you can reach your full potential as a woman? 
The Pretty Brown Girl Club (PBG) #14 is ready to help mothers and daughters answer these questions with its fourth annual Mother-Daughter Conference.
It all takes place under the theme "Unlocking Your Hidden Potential!" on Saturday, May 6, from 9am - 1pm at the British Colonial Hilton. 
This year's conference is expected to be bigger and better than ever with a life-changing "moms only" workshop for mothers who dream of achieving their goals. 
There will also be age-appropriate breakout sessions for girls ages six to 16, encouraging them to dream big and pursue their goals. 
This year, the PBG Nassau club is excited to announce that it will also have a special guest appearance by Sheri Crawley, founder of the Pretty Brown Girl movement and the Pretty Brown Girl Foundation, both based in Detroit, Michigan.
"This year's conference will be interactive and full of amazing surprises," said Anita Bain, co-leader of PBG Club #14. "We can't wait for our mothers and daughters to bond, laugh and have fun together! All I can say is that both mothers and daughters can expect to move around and have fun."
Pretty Brown Girl #14 promises that the conference will also include prizes, conference bags and one-of-a-kind vendor shopping.
The lineup of presenters and panelists include: Katherine Beneby II, Nikki Carter, Yolanda Darville and her daughter Maya, and Nyisha Tilus, Miss University of the Bahamas, as well as mothers-turned-entrepreneurs who are making an impact in their communities while managing their families. 
Panelists include the following entrepreneurs: Daphne Bethel, Kathleen Cooper, Dameeka Roberts and Shervonne Johnson. Tonette Minnis will act as the moderator for this session.
The founders of Pretty Brown Girl Club #14 aim to make this conference available and affordable for mothers and daughters of all backgrounds. 
Through the support of sponsors – including lead sponsor BAF Financial – and donors, organisers said, they have been able to keep the entry fee at $10. 
Tickets are available at Cash N Go locations on Rosetta Street and Prince Charles Drive. They are also available by calling 376-0850 or 525-9643, or by e-mailing prettybrowngirlbahamas14@gmail.com.
Pretty Brown Girl (www.prettybrowngirl.com) is an international organisation that aims to fulfil its mission of "celebrating the beautiful shades of brown all over the world", while inspiring positive self-esteem and confidence in girls and young women.