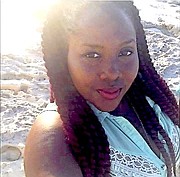 Valicia Rolle is the writer behind a new Bahamian film set to premiere tonight at the Bistro Underground Bahamas.
The movie is called "Liar's Dice" and tells the story of Alexander Glinton, a young business executive working hard from 9 to 5 who grows increasingly frustrated to make the money he thinks it needs to "make it happen".
At his wits' end, Alexander decides to risk it all for a shot at success by breaking into his millionaire boss's home for a slice of the pie. As life would have it, an easy job becomes a major challenge when people and other problems are added to the mix.
" 'Liar's Dice' was a concept created by Jeffery Mackey, the director. I automatically fell in love with the concept and added the words and creative twist to it," Ms Rolle told Tribune Woman.
"I believe that women should more involved in directing and writing because it breaks down the stereotypes. Women are good for more than just romance, comedy and 'the black woman's struggle'. The best form of empowerment a woman can contribute to this industry is by getting behind the camera and showing life as it is, without the imposition of gender or stereotypes."
Ms Rolle is no stranger to filmmaking. A film that she co-wrote, "The Dream", was shown at the Bahamas Film Festival in 2013.
Her next film is a personal project called "Girl's Night Out".
"It's going to look at the darker side of a ladies' night and it should definitely change your perspective as to why girls get together. I'm really excited about this project of mine and I am looking to shoot within the summer," said Ms Rolle.
Until then, viewers can enjoy the heart-pounding ride promised by "Liar's Dice".
Directed by Jeffery Mackey and assisted by Durontee Beneby, the film touts an all-Bahamian cast including Deangelo Brown, LeChante Wright, Thomas Robinson and Tametryo Brown – all seasoned actors with experience in filmmaking both locally and abroad. 
Filmed throughout New Providence, "Liar's Dice" movie aims to take viewers on a heart-pounding ride, as Alexander, Jude and Aaron face several obstacles, trials and tests.
For the team, filmmaking from a uniquely Bahamian viewpoint is an art and passion.
"Filmmaking here in the Bahamas is indeed growing at a rapid pace and gaining much respect on the international scene," said Jeffery Mackey , Director.  "We decided to follow our dreams a create film making opportunities to showcase the exceptional talent that lies right here in our country. 'Liar's Dice' brought together a talented, all Bahamian cast and crew. We are very proud of the work produced."
Join the cast at 7.30pm tonight for a mix and mingle and the screening of the film at 8.30pm. The event is free for the general public.
"Liar's Dice" is for adult audiences. For more information about the film, visit Facebook @liarsdicemovie or call 433-1080 or 456-6791.