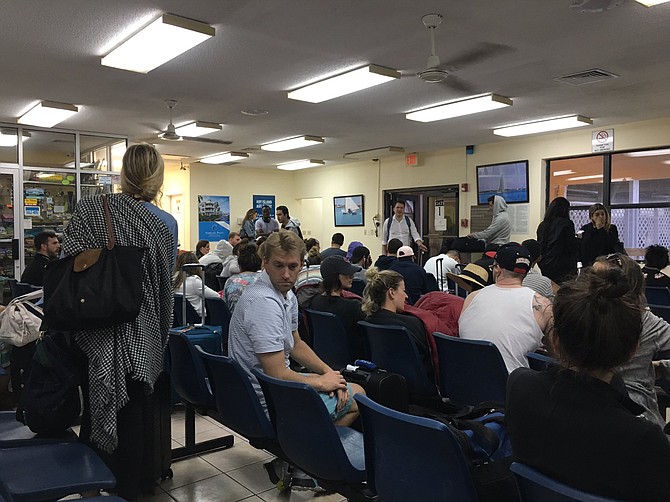 UPDATE: 'Heartbroken' Jah Rule says Fyre Festival was not a scam – FULL STORY HERE.
THE Fyre Festival, a much-hyped luxury music event in Exuma with tickets costing up to $12,000, has been branded a "disaster" and postponed indefinitely, with reports of infrastructure and accommodation not ready, no security, cancelled flights and stranded passengers.
Headline performers cancelled their performances and the Ministry of Tourism offered a "heartfelt apology" in expressing its disappointment for the "total disorganisation and chaos". The ministry, while saying it was not an official sponsor of the private event, said it was lending its support to help with the safe return of all Fyre Festival visitors.
On Friday morning, it was reported that flights were returning visitors to Miami. Exuma is busy this weekend, with the national Family Islands regatta in George Town the biggest annnual event on the island normally attracting ten of thousands of visitors.
The organisers cancelled the event at the last minute after many people had already arrived this week and spent thousands of dollars on tickets and travel.
Fyre Festival, co-organised by Ja Rule, promised a "cultural moment created from a blend of music, art and food" over the next two weekends in Great Exuma. Festival organisers claimed they set out "to provide a once-in-a-lifetime musical experience on the Islands of the Exumas" and had billed it along the lines of the Coachella Valley Music and Arts Festival in southern California.
In a statement on its website on Thursday night the event organisers said: "Due to circumstances out of our control, the physical infrastructure was not in place on time and we are unable to fulfill on that vision safely and enjoyably for our guests. At this time, we are working tirelessly to get flights scheduled and get everyone off of Great Exuma and home safely as quickly as we can.
"We ask that guests currently on-island do not make their own arrangements to get to the airport as we are coordinating those plans. We are working to place everyone on complimentary charters back to Miami today; this process has commenced and the safety and comfort of our guests is our top priority.
"The festival is being postponed until we can further assess if and when we are able to create the high-quality experience we envisioned. We ask for everyone's patience and cooperation during this difficult time as we work as quickly and safely as we can to remedy this unforeseeable situation.
"We will continue to provide regular updates via email to our guests and via our official social media channels as they become available."
Tickets had included a flight from Miami, a stay in a "geodesic dome" and activities including yoga and kayaking. Pre-publicity suggested festival-goers could pay up to $100,000 to mingle with models and be ferried around by private yachts and planes.
But visitors described the event as a "complete disaster" and it attacted unflattering international media coverage. William Finley, of North Carolina, posted on social media that he and his friends had arrived to find "disaster tent city" when searching for their accommodation. One British visitor said the festival site "was worse than a refugee camp".
There were also complaints of missing luggage, unsatisfactory catered food, fears for people's safety, piles of garbage, feral dogs and looting of alcohol.
Blink-182, who were set to be the headline act, pulled out. In a Twitter post the band said "Regrettably, and after much consideration, we want to let you know that we won't be perfoming at Fyre Fest in the Bahamas this weekend. We're not confident that we would have what we need to give you the qualify of performances we always give our fans."
Migos, Major Lazer, Skepta and Disclosure were all set to perform as well.
For those already in the Exumas, organisers said assistance would be available.
"We are working to comfortably accommodate guests and deliver a great experience," they said. "If you have needs, please head to the Blue House on the main festival site. Security, first aid and Fyre Festival staff are here to assist immediately, 24/7."
People were trying to leave the festival from Thursday but getting a flight proved a problem for some with delays and queues at the airport.
Ticket holders who were still making their way on flights to the island, were halted. "Due to circumstances beyond our control, and in line with a culture of safety, all inbound charter flights to the Exumas have been cancelled," festival organisers said.
"Your ticket and any funds uploaded to your RFID band will be refunded. Thank you for bearing with us as we work through the growing pains that every first year event experiences. Revised itinerary information will be shared soon for the remainder of this weekend and weekend two."
Ja Rule has yet to comment on what is happening at the festival. Earlier this week he shared photographs on social media of preparations. The event had been endorsed by a number of high-profile models and influencers such as Bella Hadid, Emily Ratajkowski and Hailey Baldwin.
A Ministry of Tourism statement on Friday read: "We are extremely disappointed in the way the events unfolded yesterday with the Fyre Festival. We offer a heartfelt apology to all who traveled to our country for this event. Tourism is our number one industry and it is our aim to deliver world-class experiences and events.

"Hundreds of visitors to Exuma were met with total disorganization and chaos. The organizers of Fyre recently asked the Ministry of Tourism for support for their private event. The Ministry of Tourism is not an official sponsor of Fyre Festival. Given the magnitude of this undertaking, the MOT lent its support as we do with all international events. We offered advice and assisted with communications with other government agencies.
"The event organizers assured us that all measures were taken to ensure a safe and successful event but clearly they did not have the capacity to execute an event of this scale. A team of Ministry of Tourism representatives is on the island to assist with the organization of a safe return of all Fyre Festival visitors. It is our hope that the Fyre Festival visitors would consider returning to the Islands of The Bahamas in the future to truly experience all of our beauty."