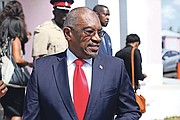 By SANCHESKA DORSETT
Tribune Staff Reporter
sdorsett@tribunemedia.net
PRIME Minister Dr Hubert Minnis said yesterday while he appreciates Progressive Liberal Party Leader Philip "Brave" Davis admitting the opposition party made mistakes during its last term in office, he is still waiting to hear "a real apology."
In an interview with reporters after a tour of the luxury resort community Albany, Dr Minnis said he listened "attentively" to Mr Davis' address to the nation and said he noticed the words "I am sorry" were missing.
However, he said he understands that Mr Davis is "fighting for his own survival" and may have simply forgotten.
On Monday night, Mr Davis admitted the former government was not perfect, made "serious" mistakes and lost the "trust' of Bahamians, but offered no outright apology for the missteps of the previous Christie administration.
Instead he sought to justify the former governing party's actions saying that during its last term in office the Christie administration was always thinking of the people affected by its policies.
Despite conceding his party's mistakes, Mr Davis also castigated Dr Minnis saying his national address last week left the Official Opposition "perplexed" and offered no vision, concrete policies or credible plans for taking the country forward.
"He (Mr Davis) said that they have made mistakes, they made big mistakes. I listened and if you made mistakes and you know you made mistakes, I was listening for the apology, there was no such apology," Dr Minnis said.
"I was hoping that he would say 'yes we have made mistakes and so going forward we would like to see these type of mistakes never occur again and I am sorry for what happened and I would like to enter into discussions with not only the prime minister but the attorney general so that we can deal with the mistakes we made to ensure we put systems in place and deal with those who were wrong or who did wrong so it never, ever happens again and be it FNM, PLP, Bahamians whatever, we deal with it.
"It has nothing to do with seniority, political affiliation or financial status we just want it eradicated and that is the approach the opposition should take," Dr Minnis said.
On Monday, lawyer Wayne Munroe, QC, told The Tribune he has completed his list of alleged "corrupt members" of the Free National Movement, but won't send it to the police "just yet" because he doesn't trust the Royal Bahamas Police Force's Anti-Corruption Unit.
Mr Munroe said he has a list of eight FNM members — six current and two former members of Parliament — who he believes fit the current government's definition of being "corrupt."
While he did not directly respond to Mr Munroe, Dr Minnis said he is not afraid to go before the Anti-Corruption Unit because he has nothing to hide.
"And If they feel like I did wrong, I have no objection to the attorney general and the Anti-Corruption Unit calling me forward and interviewing me," Dr Minnis said.
"And I hope that he too has no objection."