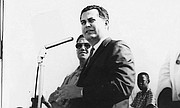 FORMER Governor General Sir Arthur Foulkes, in paying tribute to Sir Geoffrey Johnstone, described him as "a great Bahamian who gave brilliant service to his country for many years and in many ways".
Sir Geoffrey, 89, a distinguished politician and lawyer, died in Doctors Hospital in the early hours of Friday morning after a long illness.
Sir Arthur said he got to know Sir Geoffrey "in the political arena where he played a major role during that tumultuous period of the Sixties and Seventies.
"Sir Geoffrey was a very charming and polished gentleman and a skillful and charismatic politician. I know because he and I were candidates on opposite sides in the same constituency in the 1962 general election. He won and I lost. But we became friends.
"At the time of the dramatic events which resulted in a major realignment of politics in the early Seventies Sir Geoffrey was at the centre of things," said Sir Arthur.

"It was fortuitous that he had just become leader of the opposition and leader of the United Bahamian Party in 1970 during the political upheaval which began that year.
"Sir Geoffrey was one of the few among the leadership in his party at the time who recognised that a new political era had come to the Bahamas and he was willing to play a positive part in the transition.
"It was largely because of his efforts that the UBP was disbanded making way for a new political party, the Free National Movement, to take over the role of the Official Opposition.

"Sir Geoffrey and a few of his colleagues vowed at that time to retire from politics. He was one of those who kept that vow even though there was considerable pressure exerted to have him stay on the frontline and he was relatively young and still popular.
"Sir Geoffrey was a prince of a man, a great Bahamian patriot and nation-builder who served his country passionately, nobly and honourably. The nation owes him a great debt of gratitude.
"Joan and I extend our heartfelt sympathy to Lady Johnstone," said Sir Arthur.