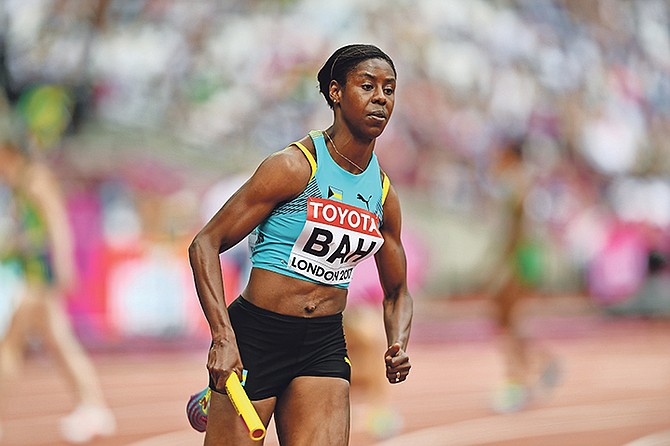 By BRENT STUBBS
Senior Sports Reporter
bstubbs@tribunemedia.net
LONDON, England: The women's 4 x 400 metre relay team didn't get to finish their heat as Christine Amertil collided on the heel of another runner, tripped and fell, landing on her head, as the remaining members of the team Lanece Clarke, Anthonique Strachan Shaquania Dorsett watched in disbelief.
It was one of the strangest circumstances that affected Team Bahamas as none of the relay teams managed to survive through the qualifying rounds on Saturday at the 16th IAAF World Championships.
After getting some medical attention, the 37-year-old Armertil, the oldest member on Team Bahamas, was able to walk on her own.
"I remember clipping one of the other athletes and going down and hitting my head. That was the last I remember," she said. "So I had the presence of mind to drag myself off the track because I assumed the race was still going on. That's about it."
When it occurred, Amertil said she just saw herself heading into the wrong direction on the track.
"I tried to protect my face. I stuck my hands out. I got a few cuts and bruises about my body, but other than I have a bad headache," she pointed. "I got assessed and the team doctor (Keir Miller) will assess me again when I get to the hotel and see what happen from here."
The member of The Bahamas' 4 x 100m silver medal team at the 2009 World Championships in Berlin, Germany with Sheniqua 'Q' Ferguson, Chandra Sturrup and Debbie Ferguson-McKenzie said she was extremely disappointed.
"This is what we train for. This is what we do," she said. "We have a really young one on the team (Dorsett) and she didn't get a chance to run, so I feel really bad. I'm very disappointed, but she'll have many more years ahead of her."
As for her future, Amertil said she was not a position to make any decision.
Waiting at the relay exchange for Amertil to come in, Strachan said she only saw when her team mate went down close to the 200m mark.
"I just hope she's okay because I know what it is to get hurt on the track and also falling on the track is very painful," she reflected.
Dorsett said her only concern at that point was that she was okay because "when she fall, she was just lying on the track until the race was over. Nobody went to get her.
The Grand Bahamian native said in track and field anything could happen.
"I was just glad to be around these great elite athletes," she said. "So I'm very thankful that I got to be here."
The team was hoping to make another dent on the global stage after finishing 11th last year at the Olympic Games in Rio e Janeiro, Brazil when Clarke, Strachan, Carmiesha Cox and Amertil lowered the national record to 3:26.36 with a sixth place finish in their heat,
At the World Relays, the combo of Shaunae Miller-Uibo, Strachan, Amertil and Rashan Brown ran a season's best of 3:34.40 for fourth in their heat and 10th overall. They didn't contest the B final as both Miller-Uibo and Strachan went on to compete in the historic mixed relay that they won with Steven Gardiner and Michael Mathieu.
In the final in London, the United States won in a world leading time of 3:19.02; Great Britain picked up the silver in 3:25.00 and Poland clinched the bronze in 3:25.41, a season's best.
Jamaica, however, suffered a similar fate as The Bahamas on the second leg as Alesha McLaughlin-Whilby went down with an injury.