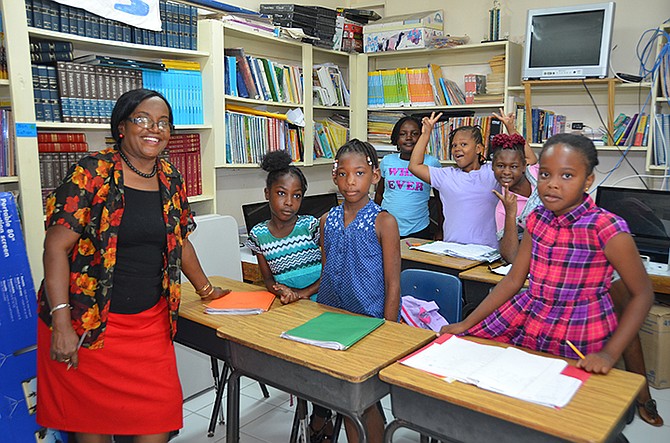 UNDER the theme "Today a Reader, Tomorrow a Leader," 58 primary school students attended The South Eleuthera Mission's literacy and numeracy summer programme which ran from June 26 to July 21.
Funded by a grant from the Cotton Bay Fund, formerly the Cotton Bay Foundation, the summer school intervention programme is designed to offer much needed assistance to non-readers, those reading below their grade level as well as those struggling with basic math. At the end of the school year, students were recommended by their class teachers and letters of consent were distributed to the parents/guardians of these children, enabling them to attend the programme.
Classes were held on the campuses of Tarpum Bay Primary, Rock Sound Primary, Wemyss Bight Primary, Green Castle Primary and Deep Creek Primary to facilitate students who attend those schools and live in those communities. To effectively cater to them, the programme began with pre-testing to ascertain each student's competency level, they were then placed accordingly.
A typical day in the summer programme began with fluency exercises; where the students practiced reading at their independent level or received assistance that would help them to read at their appropriate grade levels. They would then receive whole group, small group and/or individual instruction and help with phonemic awareness or phonics activities.
The aim was to ensure that students were exposed to targeted instruction and positive reinforcement in order to improve in noted problematic areas as it relates to phonemic awareness, phonics, grammar and comprehension; as well as math concepts, computation, application and mental math.
As part of a well-rounded programme, each child was provided with a healthy snack and drink daily. They also partook in an educational field trip with a visit to the historic "Preachers Cave".
Ade Pinder, programme co-ordinator, said: "SEM's intervention programmes work. In our continued effort to promote reading, we launched The Book Busters Reading Club this summer, a club that targets strong and avid readers. Remarkably, most of the students who are now a part of that club, were once enrolled in our afterschool and summer intervention programmes. It testifies to the strength and effectiveness of what we do."
The programme culminated with a closing ceremony at the South Eleuthera Mission on Friday, July 21. The ceremony heavily underscored literacy as students demonstrated their improved reading through poetry and choral reading. In attendance were teachers, families and members of the community.
Teacher Sharon Carey, who worked with the programme said in her summation, "I have seen the benefits of SEM's intervention programmes, as a teacher I can say with certainty that the summer programme is most effective. I have seen the marked improvements in children who could not read or properly hold a pencil transform into confident readers and writers."
Eight-year-old Taliah Evans of Wemyss Bight Primary, loves to read and write stories but was having difficulties with math.
She said: "I was happy for summer school because I got to go over the math I didn't understand in school. I can do better now."
For Jenny Joseph, a fourth grader of Rock Sound Primary, summer school gave her much needed help.
"I got help everyday with my reading and spelling and I am glad about that, I wanted to read better," she said.
Director of the South Eleuthera Mission Errol McPhee said at the closing ceremony he had profound pleasure at the impact of the programme and lauded the commitment of the teachers who delayed their vacation to lend their expertise.
Certificates of participation and report cards were distributed to each student.
The South Eleuthera Mission is a non-profit organisation that seeks to strengthen students, schools and communities through educational offerings. It partners with the Ministry of Education and The One Eleuthera Foundation to bring quality and impactful programmes across the island of Eleuthera.