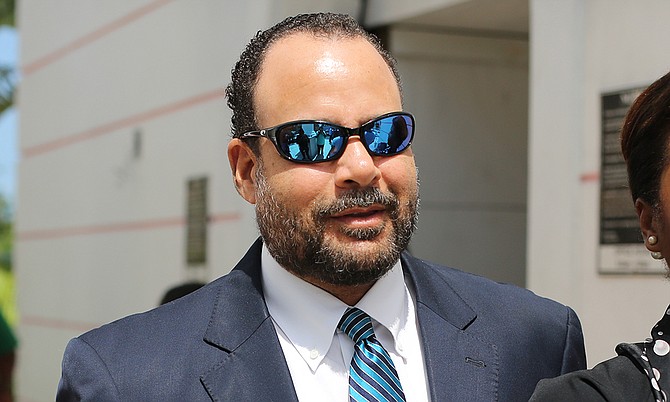 By NICO SCAVELLA
Tribune Staff Reporter
nscavella@tribunemedia.net
Former Progressive Liberal Party Senator Frank Smith's trial for extortion and bribery charges will commence in late November.
Smith, 50, will face 15 criminal charges in a Magistrate's Court concerning his alleged solicitation of $65,000 in bribes from a woman he is said to have assisted in getting a contract. He is currently out on $50,000 bail.
Chief Magistrate Joyann Ferguson-Pratt, in a status hearing on Friday, said Smith's trial will be held on November 28, 29, 30, and again on December 11. He will remain on bail until then.
In the presence of Smith's wife, Sharlyn, his father, Richard, father-in-law, Sir Franklyn Wilson, and his uncle, former PLP Cabinet minister George Smith, the chief magistrate said it is her "earnest expectation" that both the Crown and the defence do their part to help the matter see its conclusion as quickly as possible, stating that it is of national significance.
Smith was initially arraigned before the Chief Magistrate in July over 13 counts of extortion, and a count each of attempted extortion and bribery.
The extortion and attempted extortion charges were brought under section 453(1) of the Penal Code while the bribery charge was brought under sections 4(2)(a) and 10(b) of the Prevention of Bribery Act.
It is alleged that Smith, between April 2016 and April 2017, in respect of his duties as a public officers, demanded and obtained $5,000 per month from Barbara Hanna, knowing he was not lawfully authorised to do so.
He is also alleged to have attempted to extort another $5,000 from Ms Hanna in May 2017.
Concerning the bribery charge, it is alleged that he solicited $5,000 a month from Ms Hanna for aiding her in getting a contract with the Public Hospitals Authority (PHA).
Smith plead not guilty to all of the allegations during his arraignment.
Within an hour of the arraignment, Smiths lead attorney, Damian Gomez, QC, and assisting lawyers, Glendon Rolle and Valentine Grimes, appeared before Senior Justice Stephen Isaacs asking for Smith to be released from custody ahead of trial.