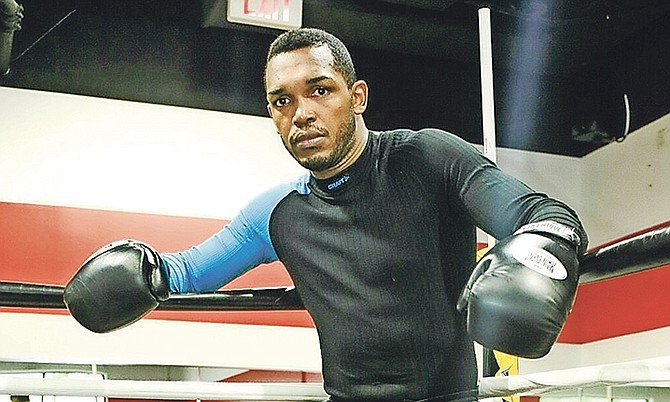 By BRENT STUBBS
Senior Sports Reporter
bstubbs@tribunemedia.net
For the second time in his career, Tureano 'Reno' Johnson finds himself on the threshold of securing a world title shot.
Johnson, 33, is in Miami, Oklahoma preparing for his 12-round main event showdown on Friday night at the Buffalo Run Casino in Miami, Oklahoma, where he will take on Sergiy 'the Technician' Derevyanchenko.
The fight will be carried live on Sports 1/Fox Deportes.
It's a mandatory fight with Johnson ranked at number one in the International Boxing Federation and Derevyanchenko at No.2.
The winner could get a title fight against Gennady Golovkin, the IBF, World Boxing Council and co-World Boxing Association champion.
Johnson originally earned a mandatory shot at Golovkin after he destroyed Eamonn O'Kane in an elimination fight on October 17, 2015 on the undercard of Golovkin's unification fight with David Lemieux.
However, Johnson suffered a severe shoulder injury in the bout. The injury required surgery and Johnson did not fight again until he returned for a second-round knockout win against Fabiano Pena on March 23.
As a result of his inactivity, the IBF decided to give Johnson another eliminator before they can look at a possible match-up against Golovkin again.
"This is something that I've been waiting for a long time," said Johnson in an interview with The Tribune. "I've been in this position before, but I am much better prepared this time around."
Johnson, who fights out of the Golden Boy Promotions, heads into the fight with a 20-1 win-loss record with 14 knockouts. His only lost came on April 4, 2014 against Curtis Stevens at the Liacouras Center in Philadelphia.
Against 31-year-old Russian born Derevyanchenko, who hails out of Ukraine, Johnson will take on an opponent whose career got started with his debut in at the BB King Blues Club & Grill in New York where he won over Gordon Cromwell.
In fact, Derevyanchenko's promoter Alex Khanas has kept him in the United States where he's fought all of his fights, including his last encounter on March 14 at the Fitzgerald's Casino and Hotel in Tunica, Mississippi, over Kemahl Russell. Eight of his fights have been via the knockout.
While Johnson said he has only watched his opponent on tape, he knows a little about his amateur background, having fought against one of his Ukraine team-mates at the 2008 Olympic Games in Beijing, China.
Competing in the welterweight division at the time, Johnson won 9-4 over Olexandr Stretskyy of Ukraine in the second round before he was eliminated 11-4 by Hanati Silamu of China in the third round.
Johnson won his first-round bout 18-3 over Rolande Moses of Grenada.
Two years later, Johnson turned pro, winning his debut on March 5, 2010 against Cleoney Fuqua at the Center Stage in Atlanta, Georgia.
After he had his 14-0 win streak snapped by Stevens in 2014, Johnson went on to win the vacant WBC Continental Americas middleweight title on July 11, 2014 against Mike Gavronski at the Little Creek Casino Resort in Sheldon, Washington.
He also took the vacant WBA International middleweight and the WBC Silver middleweight titles, all vacant, over Alex Theran on January 9, 2015 at the Madison Square Gardens in New York.
The 5-foot, 10-inch orthodox fighter said he's in the best shape of his life, thanks to the preparation of his coach, Antonio Bentacurt, and he intends to put on a show for the Bahamian public, those who will be in attendance and those who will get a chance to watch it on television.
"We've been working very hard and now I feel I'm ready to take on the world," Johnson said.
"I am very happy to be back with coach Antonio. He has really done a great job getting me ready for this fight."
Bentacurt was in Johnson's corner for all but his two fights in 2015.
Tyrone Jones handled those two before he passed away that same year.
Johnson said after Jones' death, he reunited with Bentacurt who got him prepared for his return to action on March 23 when he won over Fabiano Pena in Fantasy Springs Casino in Indio, California.
During his brief break, Johnson had to undergo surgery at the Princess Margaret Hospital to repair his shoulders.
He thanked the doctors and staff who worked on him, Lynden Johnson, past chairman of the National Sports Authority for granting him access to the facilities at the Queen Elizabeth Sports Centre to train and the International Orthopedic Therapy & Holistic Spa.
Johnson also thanked the Ministry of Tourism, the Mail Boat, the Food Kingdom on Carmichael Road, Community Pharmacy, KS Moses and Gully's Towing among others, who have assisted him financially.
Without all of their support, Johnson said he would not be in the position that he is in today, getting ready to cash in on a bid to get a world title shot.
The weigh-in for the 160-pound fight is scheduled to take place on Thursday.