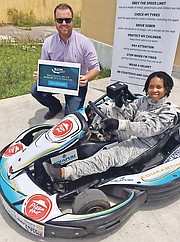 IT felt like 110°F outside but for the 56 kids who donned race suits and helmets and tackled a challenging slalom course in speedy karts they had taken apart and rebuilt, it was the coolest thing ever.
Edukarting Bahamas recently wrapped up its two-week summer camp at Doris Johnson High School where teens and pre-teens created business plans, pitched sponsors, managed finances, pulled apart karts all while learning how to drive them in a holistic programme designed to teach values of self-discipline, responsibility and teamwork. According to organisers, it was the "best karting camp ever" and wouldn't have been possible without the support of volunteers and sponsors.
"This undoubtedly has been our best camp to date," said EduKarting Bahamas founder and coordinator David McLaughlin. "The kids were fantastic, really absorbing all of the skills the camp is designed to teach, from marketing to mechanics, while having a great time with their teammates and the karts. But it's a camp that we can't conduct without our dedicated team of local and international volunteers and sponsors. We owe our tremendous success to them. We were able to offer the camp for just $25 per camper per week, including lunch, thanks to sponsors like Pizza Hut. It's a beautiful example of private/public partnership positively impacting the lives of our Bahamian youngsters."
For campers like Elzoria Knowles, 10, and Miracle Carey, 10, a second's trepidation turned to confidence and broad smiles as they took control of the little racing machine that is the training ground of all the world's top Formula One racers.
"You can watch these kids mature in one circuit," said Craig 'Cam' Camilleri, who rides on the side of the kart, holding on as a student takes his or her first drive. "They've been in class, they've learned the importance of safety, they've driven the simulator, they're raised virtual money to 'pay' for their gear, but now suddenly they are in the kart. It is just them and the engine and the road in front of them and they have to press the pedal and go. That first touch of the foot to the floor is a moment every kid who has ever driven a kart will always remember. Once they do, there is no stopping them, they want another turn and another. You see the fear dissipate instantly and it is like they are gaining confidence in front of your eyes."
This is the third year he and Henry Beaudette have used their vacation time from jobs in the UK to volunteer in the Bahamas with the EduKarting programme.
Sponsors included the Ministry of Education, Science & Technology, Rotary Club of East Nassau, Rotaract, JS Johnson, Bahamas Waste, Diane Phillips & Associates, Custom Computers, Oasis Furniture, Pizza Hut, Valvoline, Caribbean Bottling Company Ltd, Aquapure, Battery & Tyre, Jumbex and the FIA.