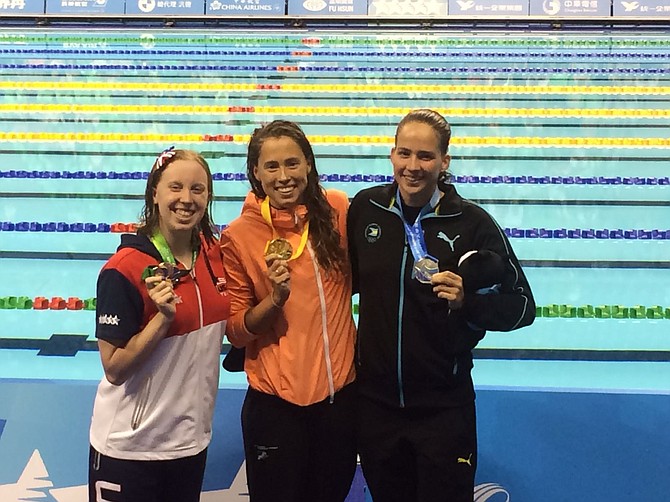 By BRENT STUBBS
Senior Sports Reporter
bstubbs@tribunemedia.net
GRAND Bahamian Joanna Evans, the flag bearer during the protest which interrupted the opening ceremonies, put the Bahamas in a three-way tie for 18th place after she claimed an historic silver and bronze medal and set two national records in three finals she contested at the 29th Summer University Games in Taipei, Taiwan.
In her last of four events to lead the Bahamas' four-member team of Gershwin Greene, Laura Morley and Albury Higgs on the final day of competition on Saturday, Evans got back on the podium for the silver in the women's 400m freestyle when she posted a time of four minutes and 08.53 seconds.
The 20-year-old, who made her international splash at the senior level at the 2016 Olympic Games in Rio de Janeiro, Brazil, was sandwiched between Germany's Sarah Koehler, the gold medallist in a meet record of 4:03.96 and American Sierra Kai Schmidt, the bronze medallist in 4:09.82.
Evans entered the semi-finals with a second place in her heat in 4:12.62 for sixth place overall out of a field of 38 competitors.
The 5-foot, 11-inch University of Texas sophomore swimmer, majoring in engineering, struck for her first medal in the women's 800m when she touched the wall in 8:31.18 behind Italy's Simone Quadarella, the gold medallist in a meet record of 8:20.54 with Germany's Sarah Koehler taking the silver in 8:21.67.
Evans, who in the process shattered her national record of 8:32.19 that she set at the Bahamas Swimming Federation's Royal Bank of Canada National Championships in June, advanced to the final after she clocked 8:36.89 for fourth in her heat and seventh overall.
That same day, Evans had double duties, but she didn't recuperate fast enough during a 15-minute break as she competed in the final of the women's 200m freestyle where she was eighth in 2:00.70, lowering her national record of 2:01.27 she set at the Olympics last year.
She earned her berth in the final with the fifth fastest time of 1:59.19 for third in her heat. And in the preliminaries, she qualified in the third spot in 2:00.04 with a second place in her heat.
Evans, the workhorse on the four-member team coached by Andy Knowles, got her feet wet in the games when she placed 23rd out of a field of 54 in the women's 100m freestyle. She did 56.99 for second in her heat and was just seven spots out of advancing to the semi-finals.
Coach Andy Knowles said Evans' pair of medals and national records provided another spark for the Bahamas.
"She is a real competitor who likes to step up to a challenge and race, which is what she did each night," he said.
"Last night after winning the bronze in the 800 free, she was able to come back and swim the 200 free finals, after only 15 minutes rest, she was still breathing hard from the 800 and was able to go a 2:00.7 in the 200, which is another reason we knew she would be ready to challenge for the gold in the 400 free."
Knowles, who has served as a swimmer turned coach on the Bahamas Olympic Games teams, said it's always a pleasure to be at a top level meet and watch the Bahamas be well represented.
Greene, the lone male competitor for the Bahamas, was 55th overall in a field of 83 competitors in the men's 50m free in 23.96 after he got third in his heat. He also contested the 50m butterfly where he was 60th out of a field of 77 in 26.25. This time he got fourth in his heat.
The other two female competitors went head-to-head in just about all of their events.
In the women's 100m breaststroke, Morley was 23rd in 1:12.07 with Higgs 29th in 1:13.13 as Morley made some history, winning her first heat that featured two Bahamians with Higgs fifth in an event that had 43 competitors. Morley clocked 2:33.77 for 18th overall and seventh in her heat, while Higgs was 21st in 2:34.91 for second in her heat. There was a total of 32 competitors. They came back to face each other in two other events as Higgs got the best showing in the women's 50m breaststroke, coming in 24th in 33.57 to win her heat and Morley was 34th in 34.88 for eighth in the same heat.
In the women's 100m breaststroke, Morley was 23rd in 1:12.07 for her second victory in a heat that saw Higgs trailing in fifth in 1:13.13 for 29th out of a field of 43.
Higgs also contested the women's 200m individual medley where she was 24th overall in a field of 39 in 2:21.97 for second in her heat.
"On the whole the team did well, as all swimmers either did a personal best, or were not far off their best,"he said.
The team left Taipei yesterday for New York. Today, Knowles and his wife Nancy are expected to return home and all the swimmers to their respective schools.
Jenn Davis, the team's medical personnel, will head to her practice in Virginia.