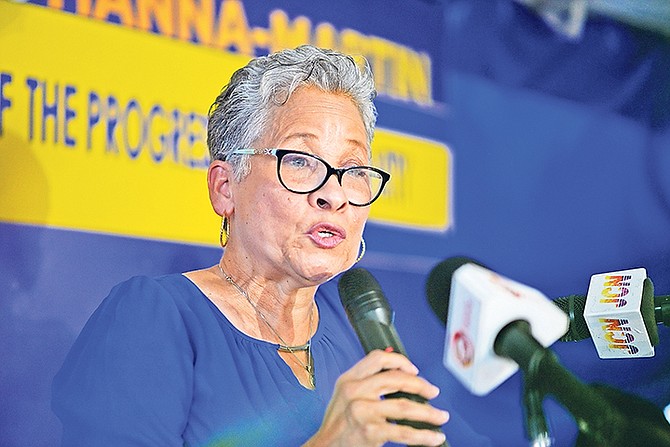 PROGRESSIVE Liberal Party Chairman Bradley Roberts said he expects "several more persons" to run for the leader of the party during its October convention, adding that the "competition" will only make the PLP stronger.
Mr Roberts' comments came one day after Englerston MP Glenys Hanna Martin launched her bid to become leader of the Official Opposition.
She is the first person to publicly announce an intention to challenge Cat Island, Rum Cay and San Salvador MP Philip "Brave" Davis for leader at the upcoming convention.
She is seeking to become the first woman to lead a major political party, having been elected as the first woman chairman of the PLP in 2008.
Mrs Hanna Martin said she would lead the party into an era of aggressive modernisation as PLP leader, embracing technological advancements while ensuring greater dialogue between members and party leadership.
"Democracy is alive and well in the PLP and I expect that there will be others who will be putting their name forward," Mr Roberts told The Tribune.
"I know there will be more than her, I know that much. A lot of persons will offer themselves, there will be competition because the PLP is strong and fierce. In the end, the best person will get the job, may the best man or woman win."
In May, Mr Davis said he intended to run for the top post of the opposition party whenever it decided to hold a convention.
The Cat Island, Rum Cay and San Salvador MP said the convention would help the party in its attempts at "resolving election issues."
As a result of the May 10 landslide defeat at the hands of the Free National Movement, former Prime Minister Perry Christie resigned as leader of the PLP days later.
Mr Davis, former PLP deputy leader, was immediately elevated to party leader, as mandated in the PLP's constitution.
The PLP held its last convention on January 24-26. At the close of the three-day event, Mr Christie won with 1,264 votes to 169 for Alfred Sears in a leadership race.
When contacted last week, Mr Sears, former attorney general, said he was mulling his options now that it was clear a convention is happening.
Mr Sears, who also unsuccessfully ran in Fort Charlotte in May, added that with all things considered, he would "weigh all the options" ahead of him, as he remains "solely and completely dedicated to improving the PLP."
Earlier this month, former PLP member of Parliament Philip Galanis said every PLP candidate rejected by voters on Election Day should be barred from contesting leadership posts at the party's October convention.
Mr Galanis told The Tribune the move would ensure that the party is in the best position to "return to the people".