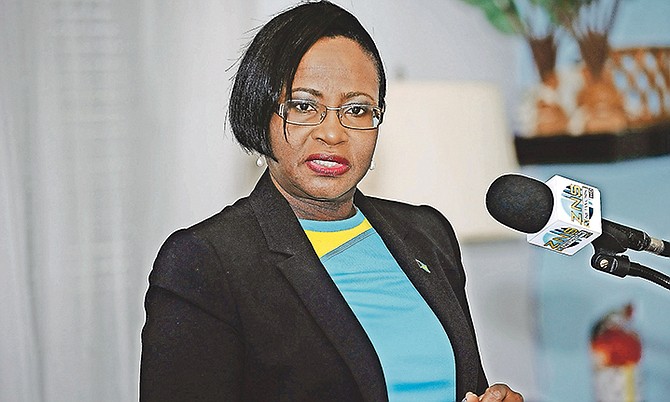 By RENALDO DORSETT
Tribune Sports Reporter
rdorsett@tribunemedia.net
ROSAMUNDE Carey, president of the Bahamas Association of Athletic Associations, outlined the pending agenda for her administration moving forward.
The executives seek to establish several new concepts, most notably the establishment of a chief executive officer, the effect of the new constitution and a myriad of other initiatives.
"We have a very ambitious agenda moving forward, I am confident that the executives, council members will continue to provide the resources required to successfully advance the operations of the federation," she said.
"We are undergoing the transformation of the BAAAs into a business model that can stand on par with the best associations in the region and indeed the wider international community. The need for structural changes and the establishment of policies and regulations for more clear and transparent operations are paramount. Moreover, the federation recognises that a paradigm shift is necessary to attract more stakeholders to advance and promote a culture of developing and strengthening our programmes that will undoubtedly give rise to a more effective organisation."
The BAAA is currently in search of prospective candidates to fulfil the position of CEO. The full-time post is expected to be filled by November.
"As we speak a search is underway to find a suitable individual with the appropriate business acumen and skill set to fill the role as a full-time staff member of the federation to provide valuable assistance in planning activities for the upcoming season," she said.
"The role of CEO is vital in moving the federation forward to being a viable business entity."
The mandate to continue the advancement of the federation includes several initiatives, including the hosting of the Dr BJ Nottage Flow CARIFTA Track and Field Championships, the hosting of the annual awards banquet ceremony and the milestone of the administration, the new constitution.
"Our quantum leap came when members of the federation overwhelmingly voted on March 23 on the passing of the constitution, which became effective on April 1. Undoubtedly, this is the largest tangible act of success of this administration's tenure thus far," Carey said. "The founding of our new constitution places us in the best position to move forward and revolutionise our sport. I can assure you that the federation will not continue to laud itself on that achievement, but will remain steadfast in implementing significant action. There are several key initiatives that will stand out – namely as it is with our parent body the IAAF – at next year's electoral AGM, the executive, and council members will not vote. The clubs will be the only ones with authority to vote in 2018."
Carey also addressed the issue of a Bahamian sprinter who failed a drug test at the IAAF World Relays.
Just before the IAAF World Championships, it was reported that a member of the men's 4x100m team tested positive, however, a resolution is still pending.