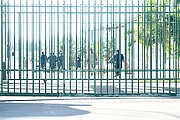 By AVA TURNQUEST
Tribune Chief Reporter
aturnquest@tribunemedia.net
NATIONAL LEAD Institute President Troy Clarke yesterday urged the government to act on recommendations submitted by the Parole and Re-entry Steering Committee concerning rehabilitation of prisoners.
Mr Clarke lamented while pilot projects were promising, there has been no real commitment from the government to fund the projects - one of which is a parole programme which was completed by 11 inmates.
The committee's work, inclusive of a 2016 study of 350 inmates, is part of the Citizen Security and Justice Programme, a $20m Inter-American Development Bank (IDB) funded project.
Mr Clarke encouraged government to outsource work to civil society, whom he said had intimate knowledge of social challenges and could ensure the best value for money.
"All I see it is a public relations thing," he told The Tribune.
"The government needs to move post haste, we won't have crime reduction without an effective re-entry programme. These IDB loans focus a lot on governmental agencies, they do these workshops but nothing really comes out of it. It's a lot of talk, good ideas but nobody saying, ok let's do it now. There is no coordination to see feasibility, success. Every year it's the same thing and I've been doing this for nine years.
"It's sad that we cannot get our leaders to buy into the experts that we have here on the ground. These same experts have been trained with funds by the US embassy and other foreign bodies but if they use anybody to spearhead these projects, they will use someone who is not really qualified."
Mr Clarke said: "It happens administration after administration, it's a culture of governments anywhere, unless civil society pushes stronger the money is wasted anyway. Government doesn't have the time and resources to match civil society but they can leverage us."
As part of the 2016 study, researchers examined a range of factors stemming from prisoner psyche, conditions at the BDCS and the country's legal system.
Mr Clarke continued: "As a criminal justice consultant, and a former committee member, the recommendations are already there, the research has been done, organisations are already cited that can assist in implementing programs. Ninety-five percent of individuals will be released, the question is not when but how. If we don't shore up the prison and put the right rehabilitative programs that are actually rehabilitative then the problem will only feed itself.
"Sixty-five percent of inmates have anti-social behaviour characteristics, the research has shown this. If you just give them a skill-base those things make it worse for those individuals unless you treat the disorder. If you don't (treat disorder) you will be churning out individuals that are dysfunctional and that's what the studies have shown us."