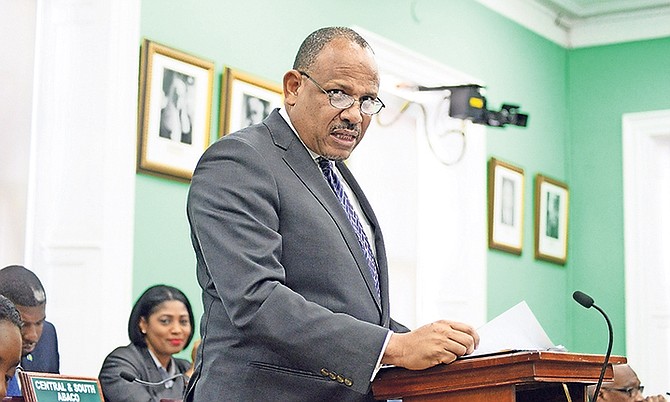 By KHRISNA RUSSELL
Deputy Chief Reporter
krussell@tribunemedia.net
THE Minnis administration has not made a decision on whether an additional tax must be introduced to fund National Health Insurance (NHI), Minister of Health Dr Duane Sands told The Tribune yesterday.
Describing this aspect of planning the universal healthcare scheme as "a major hurdle", Dr Sands suggested a new tax might be the only way to fund NHI, adding the previous administration knew there was going to be some "obligatory requirement" to have Bahamians pay for services.
On Wednesday, Tribune Business reported Dr Robin Roberts, chairman of the National Health Insurance Authority Board, suggested there were several potential mechanisms for financing NHI with the payments linked to a person's ability to pay. He made the comments during the Bahamas Insurance Brokers Association luncheon.
Besides salary deductions or an NHI levy, Dr Roberts said he wanted to create the Bahamian version of Medicare in the United States. Considering the heavy lifting left to do including making sure the scheme operates within the confines of the law, the NHIA has said full benefits may not come for two years.
Asked about funding, Dr Sands said: "In determining how much you do and where you get the money from, there is obviously a political imperative to look at the public's ability and appetite to tolerate any additional tax because right now the public finds itself struggling.
"Many find themselves struggling to survive and so without deviating from the concept that healthcare and access to good healthcare is right and understanding that we already spend $2,500 per person per year for healthcare, if we're going to increase that by another $1,000 to $1,500 per person per year then we also have to determine where that money is going to come from and what has to be in place before we go to the public and say this is what we believe makes sense."
He continued: "No decision has been made as to whether or not the government of the Bahamas is minded to impose such a tax but the technical team have made it very clear that to get to this point then this is how you have to do it. I think that is the significant major hurdle because previously it was we are going to provide these benefits, this $124m worth of benefits and for free.
"Well clearly when the question was put and what happens in year two, three and four and the minister of health at the time, the prime minister and the minister of national security and minister of Grand Bahama all passed on that because they would have known that there was going to be some obligatory requirement to have Bahamians contribute to pay for the services."
Dr Roberts has also said the NHIA was still awaiting direction regarding the establishment of a public insurer.
Regarding this, Dr Sands told The Tribune there is an awful lot of cleaning up to do with NHI, suggesting it was why a public insurer had yet to be established.
"There are a number of things that the board would have had to tackle," Dr Sands said yesterday when The Tribune contacted him. "One of the most pressing was the legality of the activity and decisions made by the secretary in apparent contradiction to the NHI Act.
"Unfortunately, in the haste to roll out something called NHI prior to election 2017, some decisions were made that are clearly explicitly in contravention to the National Health Insurance Act, specifically the requirement that there be a board in place that there be registered insurers to determine the benefits and so on.
"Bear in mind that the National Health Insurance Secretariat would have been acting in the absence of a board and entering into contracts with providers and entering into contracts to provide services but that is against the law.
"Now the question is given the fact that there are people enrolled and already receiving services this is not now a hypothetical issue it's a real legal conundrum and so they would have had to consider the various options.
"You may have heard some pundits would have suggested stop the programme completely until the matter was fully resolved. A decision was made to continue providing benefits to people enrolled in the programme, but to seek legal advice from the attorney general as to the appropriate remedies even as you constituted a board even as you hired a managing director and so on and so forth," Dr Sands said.