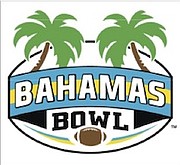 By RENALDO DORSETT
Tribune Sports Reporter
rdorsett@tribunemedia.net
COACHES and administration from both participating teams in the 2017 Bahamas Bowl had an opportunity for their first site visit ahead of the December 22 matchup.
The UAB Blazers and Ohio University Bobcats hosted their first joint press conference to speak on the significance of the game for both programmes and their expectations headed into bowl season.
Both teams accepted early bids following the completion of "rivalry week" after they each finished the regular season at 8-4. Their 16 combined victories are tied for the most in Bahamas Bowl history with last year's matchup between Eastern Michigan and Old Dominion.
The Blazers come into the Bahamas Bowl with six victories in their last eight games to finish second in Conference USA's West Division. The Blazers average 29.6 points per game and UAB has scored 30 or more points six times.
"Seeing the improvements that have been made is tremendous. It will be a true battle and a test when we play those guys. As all of this was coming to fruition at the end of the season, we said very quickly that we would want to come to this ball game," Blazers head coach Bill Clark said.
"The programme was at total shutdown, the students voted to raise their tuition to bring our programme back and for our players, coaches to do this was such a big deal, it really capped off a storybook ending to this season."
The Blazers' were 8-4 and 6-2 in conference play. The football programme was cut in 2014, and in just three short years have returned to prominence. Due to the fundraising effort by businesses and fans in the Birmingham area, there was an announcement six months later by the university that the programme would return in 2017.
"It is a tremendous pleasure and honour for us to be a part of this game. UAB has had a great year but we are also privileged to play an esteemed institution as Ohio.
"This UAB team has endured so much during the year and has accomplished so much," said UAB senior associate athletic director and CFO Bryant Carter.
"This opportunity has been presented to a team that is very deserving. We had not played in two years, no one outside of our UAB community thought we would be here but we did it and we did it the right way. We have written history and I think we have answered the call."
Ohio, which also went 8-4 but also went 5-3 in the Mid American Conference play, will be led to its' 11th all-time bowl appearance by head coach Frank Solich, who is in his 13th season at Ohio. He has taken the Bobcats to nine bowls, including in each of the last three seasons. He is the third-longest tenured coach in the FBS ranks.
"Very excited to be here and right away you recognise the hospitality has been amazing. To all of those people that are involved in putting this on, we thank you. There is an excited group of Bobcats coming down and we are certainly looking forward to it," he said. "As I look at our team and what they have accomplished it has been nothing short of amazing. It should be a great football game and there is no question they are a great football team on the opposite side that we will have to defeat to win this game. I think we have a very good team and has been as much fun for me as any team I have been around. They have made the game fun for me and easy for me, that has been appreciated. They enjoy the sport and take in the moment."
The Bobcats come into the Bahamas Bowl with four victories in the last six games as Ohio finished second in the MAC East Division. On defence, the Bobcats have held opponents to 25.8 points per game.
"This is a great experience for both of our schools and we are excited to be here for this tremendous opportunity," Ohio Director of Athletics, Jim Schaus said, "When they heard they were coming to the Bahamas they were excited and jumping up and down and who wouldn't be? The teams from our conference that have played here couldn't say enough about the bowl, the experience the people here and the hospitality so we are very grateful and excited."
Slated for 12:30 pm, the game will be televised on ESPN and broadcast on the Bahamas Bowl Radio Network in the first matchup between the two programmes.
Minister of Youth, Sports and Culture, Michael Pintard said the Bahamas will once again look forward to an exciting game on the field and performing their role as hosts.
"The energy is very high. During the holiday season, Bahamians participate enthusiastically in a wide range of events and it is our intention to make it a special one for you. We are all waiting with great anticipation to see this battle and we are looking forward to experiencing the competition," he said, "Sports is a developmental tool, not merely providing entertainment but building powerful men and women who take characteristics from athletics and use them to transform their communities. We can guarantee Bahamian hospitality and a long-term relationship which will pay dividends for both of us."
Ticket sales for the 2017 Bahamas Bowl went on sale at the Thomas A. Robinson National Stadium box office and online at NSA-Bahamas.com on November 1.
Prices start at $10 for general admission and range from $10-$30.
Tickets can be purchased in-person at the Thomas A. Robinson National Stadium Box Office or via the National Stadium Authority-Bahamas website at NSA-Bahamas.com. For more information, call the National Stadium Box Office at 325-0376.
The 2017 gameday entertainment includes a pregame performance by the Bahamas All-Star Band, a halftime performance by the Royal Bahamas Police Force Band and Junkanoo groups will perform during the break between the first and second quarters as well as the break between the third and fourth quarters.
For the second straight year, the game date falls at the start of a long holiday weekend in the Bahamas, allowing for an early Friday afternoon game.
Crowds of over 13,000 each year in Nassau have watched the only current bowl game played outside of the United States. The inaugural game in 2014 saw WKU beat Central Michigan 49-48 in a memorable offensive shootout. In 2015, Western Michigan beat Middle Tennessee 45-31 and last year, Old Dominion held off Eastern Michigan 24-20
"You don't have to be a football fan, we ought to be a fan of every effort to put forth to promote this country and you get to see why we are going out into the market to host these events," said NSA General Manager Jeff Beckles, "To those experience the Bahamas for the first time we want to create partnerships for a lifetime. The only place we want them to think about is coming to the Bahamas."
More like this story