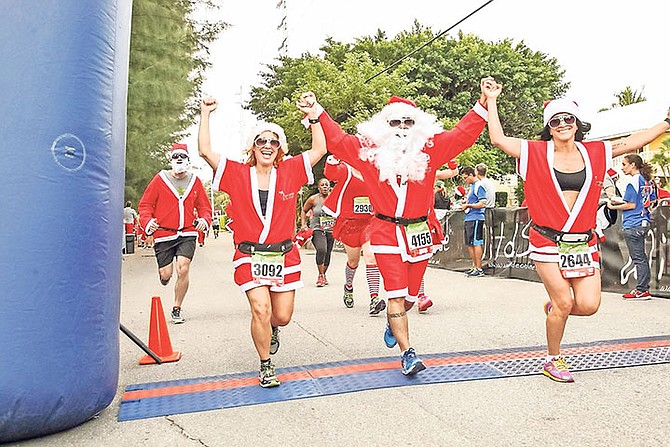 By JEFFARAH GIBSON
Tribune Features Writer
jgibson@tribunemedia.net
This Christmas season you might see a sight you haven't seen before: thousands of Santas running down West Bay Street.
Santa Claus has long been depicted as a grandfatherly figure with a long white beard and a huge midsection who sometimes gets stuck in chimneys as he offloads gifts to those who have been nice all year around.
But rarely do we hear about the "fluffy" figured Saint Nick being the central theme of a fitness activity, at least until now.
The inaugural Nassau Jingle Bell Jog, an annual 5k event to take place on December 16, will celebrate the winter holidays in a unique way.
Instead of event branded T-shirts, participants will receive a Santa suit costume, which even includes jingle bells to tie to your running shoes.
Runners are also encouraged to jog in fake Santa beards if they have them, which organisers say will "make for quite a spectacle".
"The sights and sounds of thousands of bouncing and jingling Santas along the course will be memorable," they said.
The event is open to both runners and walkers; adults and children. No matter how fast or slow you finish, you are guaranteed a Santa suit and a medal when you cross the finish line. Additionally, all finishers will receive a candy cane themed medal.
The 5k (five kilometres or 3.1 miles) course starts at Arawak Cay at 7am. (For the kids, the Little Elf Dashes start at 8am)
The route takes participants to the Western Esplanade, on to the Goodman's Bay Corporate Centre, and back to Arawak Cay.
Josh Stern, a life-long runner, CEO and founder of WildSide Online Inc USA and Bahamas, is the director of the Jingle Bell Jog. After competing in several similar events around the world he decided to host one of his own.
"Jingle Bell Jogs have been in existence all over the world for years, however, the combination of run with the Santa component was something I experienced in Europe nearly 10 years ago. I came back and approached my friend and colleague, Matt Lorraine, and said, 'I'm doing this event, are you in or out?' The rest is history we started the first one in Fort Lauderdale together and now have expanded to eight cities and will be adding four more on next year in 2018," Mr Stern told Tribune Health.
There will be four Jingle Bell Jogs taking place in different cities simultaneously - in Nassau, Tampa, Naples and Delray Beach, Florida.
Mr Stern joked that one of his main reasons for bringing the event to Nassau along with Exclusive Sports Marketing is because "Santa needs to have some fun in the sun also."
Additionally, he along and his team wanted to promote a festive holiday spirit and to engage the local community.
"We work with local organisations and local race directors in each market to keep a local cultural component entwined with each event. I think Nassau is the only venue where Vitamalt is a necessity for post-race," he said.
Based on the huge response he has received to date, Mr Stern anticipates there will be thousands of Santas ready to take over Arawak Cay.
"We are hoping to become the largest running event in the country. So far we are almost bigger than the Bahamas Marathon. We want to make this an annual event, creating a bridge between fitness and families around the holiday times," he said.
Participants are encouraged to keep a sharp eye out on the course and look for the mistletoe that has been strung up. Along the route, Christmas carolers will seeks to inspire the runners their singing.
After the 5k, the little elves will take to a shortened course. Children aged three to 10 will participate in distances ranging from 100 metres to 400 meters; broken down into age groups. They are also welcome to participate in the 5K.
All participants will need to pick up their race bibs prior to heading to the start line. They are asked to bring their IDs with them when picking up. Below are the different options available for packet pick-up:
• Thursday, December 14, 1pm - 5pm: Harbour Bay Shopping Centre, East Shirley Street entrance area
• Friday, December, 12noon - 5pm: Harbour Bay Shopping Centre, East Shirley Street entrance area
• Saturday, December 16, 6am - 6.45am: Araway Cay
For more information, visit jinglebelljog.net.