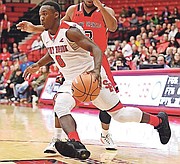 By RENALDO DORSETT
Tribune Sports Reporter
rdorsett@tribunemedia.net
JARON Cornish continues to make the most of his recent opportunities in his first season with the Stony Brook Sea Wolves men's basketball programme.
Cornish has set milestones in his last three games, most recently scoring in double figures for the second consecutive outing.
The junior guard finished with 15 points, six rebounds and two blocked shots in Stony Brook's 75-71 loss to LIU Brooklyn. He shot 6-12 from the field in 29 minutes on Monday night. "I thought tonight we played hard, but missed too many layups and free throws," said head coach Jeff Boals.
"We got the ball where we wanted to offensively, but weren't able to capitalise. Our zone was effective in the second half and we cut it to one with a chance to tie at the end, and unfortunately missed it. We need to learn from this game and get ready for Thursday."
The Seawolves led 14-5 but the Blackbirds had an 11-2 run to tie it at 16 midway through the first half. The Seawolves quickly took back the lead and were able to take a 38-24 lead into the break. Stony Brook had a one-point lead with 3:06 to play, but lost the lead for good on the following possession.
Cornish set a career high in scoring Saturday in an 85-83 win over St Francis. Cornish scored 18 points and added five assists. He shot 7-12 from the field, including 2-3 from three-point range.
In his previous games he dished nine assists and added four steals off the bench in 20 minutes in the Seawolves' 101-58 win over Shawnee State and finished with a then season high eight points, five rebounds and five assists in an 85-76 loss to Bucknell.
The junior guard transferred to Stony Brook after completing two NJCAA seasons with the Broward College Seahawks in Fort Lauderdale, Florida. As a sophomore, he averaged 18.7 points and 4.5 assists per game on 42 per cent from three-point range. While leading his team in nearly every offensive category, Cornish was also one of the top players in the NJCAA and ranked in the top 50 Division I JUCO players in the nation in free throws made, made free throws per game, total points, steals and points per game.
At 3-6, Stony Brook the Seawolves will take on Columbia (1-7) at 7pm tonight.
Stony Brook finished the 2017 season with an 18-14 record and in the post season, lost in the opening round of the CBI. In 2016, they reached the NCAA Tournament for the first time in school history. Last season, they produced a second place finish in the America East and they eventually advanced to the conference tournament semi-finals.