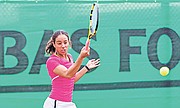 By BRENT STUBBS
Senior Sports Reporter
bstubbs@tribunemedia.net
KERRIE Cartwright is confident that her Women's Tennis Association's rankings will help to booster her performance when she comes home to compete in the Bahamas Lawn Tennis Association's annual Giorgio Baldacci Open Nationals.
The nationals is scheduled for December 18-22 at the National Tennis Centre and Cartwright is expected to lead the field of female competitors with her current WTA rankings of 1,160 in singles and 827 in doubles.
"I feel pretty good because I haven't been home for the tournament in the last three years, so to be coming home ranked is really good," said Cartwright, who will be coming home on December 16 to prepare for the tournament.
"It's a good way to start the tournament and I'm honestly just glad that I am able to play in it again since I wasn't able to play the last two years because of my visa problems."
The 25-year-old is playing her first full season on the professional circuit in International Tennis Federation's Challenges and Futures Tournaments around the world, which enabled her to get her first ranking at 1,156 and 819 respectively in singles and doubles in November. But because of her inactivity, the rankings dropped slightly.
Despite the steady movement on the chart, Cartwright said she's just delighted to be playing and in a position to climb up the ladder to play in some of the major international tournaments.
"Overall, it was tough especially mentally, especially those last two tournaments that I played," she pointed out. "I'm just very proud of myself and happy that I did it before the end of the year so that I can start off the new year ranked and going into tournaments with that."
But before she focuses her attention on her future tournaments, Cartwright said her goal is to come home and perform at the best of her ability in the tournament.
"I really have no idea who is playing, except for Danielle Thompson because we plan on playing doubles together," she said. "But I don't know who is going to play.
"I'm excited about playing and excited about the competition that will be there. I'm looking forward to seeing which Bahamian girl will be there and so I'm excited about it."
At the end of the tournament, Cartwright said her aim is to make everybody watching very proud of her performance and in the process, secure her berth on the women's Fed Cup team that will represent the country next year.
"I love representing the country and playing for the Bahamas. I've always done that and always represented the country. So that's my goal. I want to play Fed Cup and represent the Bahamas."
The date for the 2018 Fed Cup BNP by Paribas has not been finalised, but the Bahamas will be playing out of the Americas Zone Group II.
Cartwright, who first started playing Fed Cup for the Bahamas in 2008, is tied with Larikah Russell with the most singles wins with win-loss records of 14-6 and 14-8 respectively in the 22 ties she's played in.
Once she's completed her mission here, Cartwright said she will be returning to Florida where she hopes to compete in three tournaments starting on January 8 in Daytona Beach, January 15 in Orlando and January 22 in Wesley Chapel.
"As soon as I get back here, I will be preparing for those tournaments," said Cartwright about her home base in Tampa, Florida at the Saddlebrook Tennis Academy in Wesley Chapel.
"The WTA have the big tournaments, but it's amazing to be playing in these Challenges and Futures to get to that next level," she pointed out. "Not too many people get this opportunity, so I'm just grateful that I have this opportunity to do that."
In her quest to get to the next level, Cartwright said she intends to keep pushing in training and performing at a high level in competition.
"The more tournaments I would win, the better my chances of getting into the major tournaments," she said. "I would need to at least be in the top 200 to ensure that I get in. You never know how it will go next year."
In the meantime, Cartwright said she's just thrilled to be the only female player carrying the Bahamian flag on the pro circuit, but she's just trying to represent the country.
She's also following in the footsteps of her idol, her mother Kim O'Kelly, who was one of the pioneers for Bahamian female players, not only at the national, but the collegiate and international circuit.
"It's great to be following in her footsteps because she's always been there trying to guide me and encourage me to do my best and play my best at all times," she stated. "To have her to look up and to have a mother who knows tennis is a blessing."
And she's doubly blessed because her father Sean Cartwright has also made a mark for himself at all levels of the game.
"I really appreciate what he's done for me. He's been there with me through the thick and the thin," she added. "Both of them have helped out as best as they can."
But for now, she's making her own sunshine on the pro circuit and is enjoying every moment of it.